Survey Junkie Review
Ad Disclosure: This article contains references to products from our partners. We may receive compensation if you apply or shop through links in our content. You help support CreditDonkey by using our links.
(read more)
Survey Junkie is a legit survey site that pays for your opinions. Learn how to maximize your earnings, when to cash out, and why it pays to get disqualified.
Take Surveys. Get Paid

Overall Score

4.2

---

Earning Potential

3.5

Ease of Use

4.5

Trustworthy

4.5
5-point scale (the higher, the better)
---
Pros and Cons
Legit company
Low cash-out minimum
New surveys daily
Points can expire
Hard to qualify for surveys
I can't be the only one who's noticed:
For every positive review of a survey site…there's at least 5 negative ones.
And Survey Junkie is no exception.
How are you really supposed to know what to expect?
After all, your time is limited. And you could really use the extra cash.
We break down the must-know facts, downsides, and tricks for earning fast points on Survey Junkie. Plus, how to make sure your points don't expire.
If you want to make money AND get some work experience, it may be better to apply for part-time jobs. Take a look at these job ideas for

Is Survey Junkie Legit?
This seems to be the million-dollar question.
Most people are worried about one (or all) of the following things:
Do they actually pay money?

Is my personal info safe?

Is it even worth my time?
The consensus? Survey Junkie is a legit survey company. They pay real money for your surveys, and they've been in the business for nearly a decade. The app has a 4.3 rating on TrustPilot.

© CreditDonkey
Can you actually make money from Survey Junkie?
Yes. But will you get rich? No. Survey Junkie says it themselves: "You will NOT get rich by taking surveys,". "The rewards for each survey will vary but with commitment and regular participation, you'll have the opportunity to earn extra cash each month."
If you need money right away, check out these more lucrative options.

Take surveys and earn points
Redeem points for PayPal or e-Giftcards
As far as your personal info goes…it's no less safe with Survey Junkie than with any other app you've downloaded to your phone. (Seriously, have you ever read those Terms and Conditions?)
And finally - is Survey Junkie worth your time?
There's no real one-size-fits-all answer to that question, but our break down below will help you find out if its right for you.
Survey Junkie's been around for nearly a decade, but their app was released in 2019 by their parent company, DISQO.
Got an opinion? Get paid for sharing it today.Choose your state to get access to the latest surveys
How Survey Junkie Works
Screenshot of Survey Junkie
Before you sign up, you may be wondering, "Why would Survey Junkie even pay me to take surveys?"
Turns out, it's pretty simple (and less sketchy than you thought).
Companies pay you to take surveys because your opinions and thoughts are valuable. If they know what you like and dislike, they can figure out how to appeal to potential customers just like you.
This is a popular business model and many companies offer money in exchange for product feedback.
Beyond that, Survey Junkie works like this…

Sign up, either with Facebook account or an email address. (they'll ask for your zip code, gender, and date of birth)
Complete your profile (this helps them figure out which surveys you qualify for).
Get matched with surveys (Survey Junkie emails you surveys you qualify for, some from other survey sites).
Earn points. (completed surveys are usually worth 20-300 points)
Cash out when you've reached 1,000 points (we cover this process below).
Quick tip: you may want to use a secondary email instead of your primary one if you don't want to receive all their messages.
Sounds good so far, but what's this about points? Below, find out how they convert to plain cash.
What You Can Earn With Survey Junkie
Survey Junkie awards users with points instead of a cash amount for each completed survey. You will need to convert this point system into cash.
The "points-to-dollar" exchange rate is 1 point = $0.01. If you get 100 points for a survey, that equals $1.
Here's what you need to keep in mind:

Average Payout: $0.50-$3 per survey (50-300 points)

Payout Method: PayPal, gift cards and direct bank deposit (for U.S. members)

Minimum to Cash Out: $5 (500 points)
How long it will take you to cash out (500 points or $5) relies on a few factors:
How frequently you check for new surveys

How many surveys you qualify for (it'll usually be around 20%)

How much the survey awards (anywhere from 20 - 300 points)
It's common to be disqualified in the middle of taking a survey. But at least you'll still get a few points for your trouble. Survey Junkie awards 3 points ($0.03) for every disqualification.
You won't be making a ton of money on Survey Junkie, but it can add up fast if you're diligent. We cover how to earn points below.
How to Shop Smarter Online
Online shopping is convenient. But finding good prices can take a lot of time and effort. Download
Capital One Shopping
to instantly compare prices and search for promo codes.
How to Earn More Points on Survey Junkie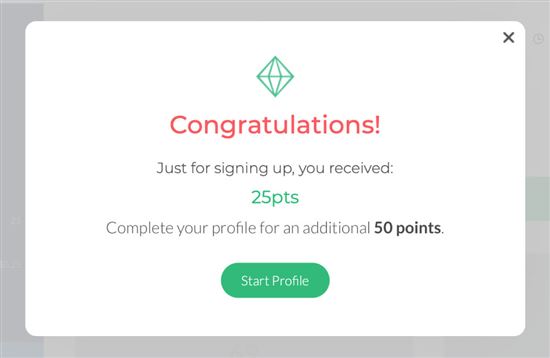 Screenshot of Survey Junkie
Once you're signed up and logged in, you can start earning points.
Survey Junkie's dashboard is easy to navigate and displays all available surveys, how many points they're worth, and how long they take. You can also see the points you've earned, as well as what's redeemable for your current point balance.
After signing up, you'll likely have a few starter tasks and surveys waiting for you on your dashboard.
The first points-earning tasks that Survey Junkie gives you are in the QuickStart Checklist. Knocking out the entire checklist first will give you a sizeable boost before you begin taking surveys.
Here's what these easy beginner tasks will net you:
QuickStart Checklist

Confirm Email: 25 points

Add Extension (internet extension to collect your browsing data): $150 points

How it Works tutorial: 5 points

Complete profile: 50 points

Technology profile: 10 points

Shopping profile: 10 points

Health profile: 10 points

Household profile: 10 points
Want more ideas to stack your points? Survey Junkie says their top earners do these things:

Check your email frequently for new surveys.

Download Survey Junkie's browser extension to quick alerts.

Create only one account on Survey Junkie. (If you create more, Survey Junkie will ban your account.
Creating multiple accounts on Survey Junkie isn't allowed, but you can certainly create accounts on other
survey sites
. Taking surveys on multiple sites is a great way to stack your earnings and get more welcome bonuses.
New: Earn More with Survey Junkie Pulse
You can earn even more points by joining Survey Junkie Pulse, their exclusive research program.
This is a separate, free browser extension and app that observes your digital activity, like:

Which ads you see

Which websites you visit

Apps you use

What you search

Products you shop for
In exchange for sharing your activity with Survey Junkie, you'll automatically earn more points. It's completely passive earnings.
The data that Pulse collects also helps you qualify for more surveys exclusive to Pulse members.
Interested? Here's some important things to know about Pulse before signing up:

Your data will be shared anonymously with companies. Any personally identifiable info is masked with encryption.[1]

Pulse doesn't collect any personal info like usernames or passwords, bank info, email addresses, Social Security Numbers, credit card numbers etc.

You must have the extension installed and enabled for 30 days to receive points.

Pulse gets disabled when you browse in incognito mode.
Never Pay for Surveys:
Online hackers/scammers prey on people looking to make extra money. As a rule of thumb, never pay for a survey opportunity. Survey Junkie doesn't charge for their surveys or for their Pulse program. But don't fall for a scam elsewhere, thinking it will be the same deal as Survey Junkie. If they ask for money, look the other way.

Who Should Use Survey Junkie?
If you're outspoken or opinionated…
Have you ever expressed an opinion when someone didn't ask for it? (No? Just me?) Well, on Survey Junkie, your opinion is always wanted. It's extremely valuable for market research.
If you like to be in-the-know…
Since companies use your survey answers to help develop new products, this means you could know about new products not yet released to the public. Pretty cool, right?
If you want to start a rainy-day fund…
Like I said before, you won't get rich with Survey Junkie. But! You can earn a decent rainy-day fund in just about a month. Keep going for a year, and you'll have a nice chunk of change.
If you don't have enough time for a full side-hustle…
Not everyone can devote 6 hours per day to drive for Uber. Luckily, these surveys can take anywhere from 5 to 30 minutes, but most take just 15.
Paid surveys are a flexible source of income. But if you want to make more than a few bucks, you may need to consider investing or a bigger side hustle. For more ideas, check out these
popular streams of income.
How to Cash Out on Survey Junkie
When you reach 500 points ($5), you're ready to cash out. Survey Junkie gives you the following options for cashing out.
Cash via PayPal: If you provide your PayPal address, you can redeem your points for cash. Survey Junkie may require phone verification before they send your money via PayPal, but this only takes a minute or two.

If you cash out via PayPal, be aware that PayPal charges a 1.75% fee to instantly transfer money from PayPal to your bank account. To avoid this fee, you have to wait for 1-3 business days before you can cash out.

Direct Bank Transfer: You can request a bank transfer via Dwolla. But this requires adding your bank routing number and account.
e-Giftcards: Survey Junkie also offers a variety of e-gift cards from a lot of popular US retailers. Just so you know, they may require a quick phone verification to protect your points/funds. (TIP: If you mostly shop at Amazon, there are a few ways to get a gift card without using Survey Junkie.)
Redeeming Your Points For Cash: If you want to redeem your points for cash, you have to redeem all of them (you can't leave a portion unused). If you choose gift card redemption, though, you can redeem the points necessary to purchase your desired gift card. You can then leave the rest of the points unused or redeem them in cash.

Reasons We Like Survey Junkie
Fairly low cash-out minimum. A lot of other survey sites have minimums as high as $30 before you can redeem your points for gifts or cash. (TIP: Other apps give out free money without any cash-out minimum at all.)
Awards disqualification points If you complete the screener for a survey and don't qualify, Survey Junkie will still reward you 2-3 points.
Surveys are relatively short Survey Junkie claims the average survey takes about 15 minutes. Take surveys while waiting for the train, at the DMV, at your dentist's office, in your Uber Pool. Anytime!
New surveys daily This doesn't mean you'll receive invites to every survey. They pair you up with surveys that match your profile. The more thorough your profile, though, the more opportunities you may receive.
Easy starting points.. For completing the sign-up process, you earn 25 points. Then, for filling out your profile, you earn another 50.
Plenty of ways to earn. Survey Junkie offers the chance to participate in product releases (receive a free product in exchange for your opinion), phone focus groups, online focus groups, and even in-person focus groups.

If you opt-in to one or more of them, you may increase your earning opportunities. Some of them pay from $5 and up, even noting as high as $150. (But don't hold your breath.)
Reasons You May Want to Skip It
Points can expire. Survey Junkie considers you an active member as long as you log in and complete one survey every 12 months. If you don't log in at least that often, your points will expire.
Survey quotas can fill up fast. Sometimes the survey quota fills up after only a few minutes. If you check your email and/or log into Survey Junkie often, you may miss opportunities to complete surveys.
You have to give personal info. You'll have to provide info on your age, birth date, medical conditions, marital status, children (if applicable), education level, and even some financial information.
Survey Junkie scores a B with the Better Business Bureau (
BBB
), but 4.5/5 stars for customer reviews. The reason listed for their "B" score was the number of complaints filed against the company.
How It Compares
Swagbucks: Swagbucks offers more than just surveys. They offer the chance to earn money by watching videos, playing games, online shopping, signing up for sponsored offers, and buying gift cards. You do any or all of these through the Swagbucks portal. You earn points for each thing you do, which you can then redeem for gift cards.

Member must "Activate" the Bonus in the Swag Ups section of your account. Bonus value is earned in the form of points, called SB. Get a 1000 SB bonus, which is equivalent to $10 in value, when you spend at least $25 at a store featured in Swagbucks.com/Shop. You must receive a minimum of 25 SB for this purchase, which you must complete within 30 days of registration. MyGiftCardsPlus.com and travel purchases do not qualify.

Opinion Outpost: Opinion Outpost offers the same opportunity as Survey Junkie. You complete surveys in exchange for points. You can then redeem those points for cash via PayPal or gift cards to major retailers.
Bottom Line
Whether you redeem your points for cash or gift cards, you can see the fruits of your labor for taking the time to answer questions that businesses need answered.
While you probably won't be able to pay your rent with Survey Junkie, it can be a fun and easy way to provide your opinion and earn a decent rainy-day fund. In exchange for helping to shape the future of our products and services, you can earn a little cash.
If you're looking to make more substantial income on the side, check out delivery driver apps (earn ~ $20/hour), odd jobs or other lucrative residual income ideas.

References
Write to Kim P at feedback@creditdonkey.com. Follow us on Twitter and Facebook for our latest posts.
Note: This website is made possible through financial relationships with some of the products and services mentioned on this site. We may receive compensation if you shop through links in our content. You do not have to use our links, but you help support CreditDonkey if you do.
Capital One Shopping compensates us when you get the Capital One Shopping extension using the links provided.