Multiple Streams of Income
Editorial Note: This content is not provided by the companies mentioned. Opinions expressed here are author's alone, and have not been reviewed, approved or otherwise endorsed by the companies.
Ad Disclosure: This article contains references to products from our partners. We may receive compensation if you apply or shop through links in our content. You help support CreditDonkey by using our links.
(read more)
Additional income streams can help boost your savings or pay off debt. Take a look at these strategies to start building wealth today.

© CreditDonkey
Here are the 10 best ways to generate multiple income streams
:

Only $10 minimum investment
Get a diversified portfolio of real estate projects across the US
Open to all investors
VALUE OF MULTIPLE INCOME STREAMS
Multiple income streams can help you boost your earnings and achieve financial freedom, especially if you're living paycheck to paycheck.
Here are some of the ways you can use multiple income streams:

Put the money into a savings account for future goals

Have more money to invest for retirement

Pay off debts faster (such as student loans)

The minimum investment amount is only $10 with an initial bank transfer of $1,000 (the $1,000 transfer is to encourage diversification; subsequent transfers can be for any amount)
Short-term real estate investments lasting just 6-18 months
Open to non-accredited investors
No investor fees
WHAT MAKES A GREAT INCOME STREAM?
When picking a second or third income stream, it's important to consider a number of factors:

Enjoyable: A second or third income stream will take up a lot of your free time, so it's best if you like what you do.
Flexible: If you have a full-time job, you will want something that can work around your schedule.
Sustainable: You're looking for a source of income that will generate funds even when you're not technically working.
Growth Potential: Find a side hustle that will grow easily and offer the ability to generate increasing amounts of income.
Cheap: Don't put in too much money in a second job so you can recoup your investments quickly.

Browse rental home investments for free. No bank account required
Best Ideas for Multiple Streams Of Income

© CreditDonkey
There are so many easy, simple ways to create multiple streams of income to boost your earnings, even with a full time job. Take a look at these options.
1. Low Risk Investments

© CreditDonkey
When most people think of investing, they think of high-risk and high-reward situations. That doesn't have to be the case.
A low-risk investment will maintain your principal investment while providing modest, stable returns.
Consider some of these options:
Preferred stock

U.S. Treasury savings bonds

Treasury Inflation Protected Securities (TIPS)

Money market funds
Your returns won't be high, but these investments have very little risk and can be great sources of extra income with very little daily effort. Learn more about these low-risk investments in detail.
What is your biggest concern about investing?

No fees
$1 minimum deposit
24/7 online access
FDIC insured
2. Rent Your Own Space

© CreditDonkey
The easiest way to make extra cash is by using stuff you already have. There's no upfront investment and very little effort required, making it an easy passive income source.
Here are some options to rent out your space:
How much you earn will depend on where you live and the demand in that area. In a major city, a room can go for $100/night. A garage storage space in Los Angeles can go for $100 - $200 a month.
3. Paid Surveys / Website Testing

© CreditDonkey
Paid surveys can be an easy way to earn money when you're just chilling on the couch. You answer questions, take quizzes, and complete other tasks to earn money or points, which can be exchanged for cash or rewards elsewhere.
You can expect to earn anywhere from $0.50 to $3 a survey, depending on the site.
Try some of these reputable online survey sites:

The website User Testing pays you to test websites and provide feedback. You'll need a microphone to speak aloud your thoughts. It pays $10 for every 20-min test.
4. Freelance Writer/Editor
© CreditDonkey
If you are good at writing or editing, starting a second job as a freelance writer can be a lucrative way to earn extra income. You can work on your own time, and all you need is a laptop and a reliable internet connection.
Experienced writers and editors can make between $30 and $40 an hour. If you have niche knowledge, you can earn even more. Writing technical guides, grant proposals, white papers, business plans usually pay more.
The best way to find writing jobs is through freelance platforms like Fiverr, Freelancer, or Upwork. Alternatively, you can pitch your own pieces to publications; however, this requires much more effort and more connections.
5. Virtual Assistant
Virtual assistants wear many hats. A virtual assistant will do anything from running social media accounts to scheduling appointments to organizing calendars.
If you have a wide variety of skills and excellent organizational skills, this position may be a good fit for you. In many situations, you can set your own schedule, which makes this a wonderful and flexible opportunity.
Additionally, many people can turn their virtual assistant position into a full-time job. New VAs usually start at $15-$20 per hour. As you learn new skills, you can increase your rate. There are a lot of scalability options.
To find clients, you can use a platform like Upwork. Or you can build your own website and advertising your services. It may cost some money upfront, but it could lead to big gains and make you look more professional.

6. Real Estate Agent

© CreditDonkey
Selling houses is a flexible way to earn additional income on the side. Many real estate agents actually start part time until they learn the ropes and make connections.
However, there are some hurdles to overcome before you get into real estate. You'll need to meet these requirements:
State licensing requirements

Complete the required real estate license courses

Pass the state exam

Submit a license application
Once you have your license, typically beginners start by working under a licensed real estate broker. You'll split commissions with the broker. The average realtor commission is 2.5%-3% of the sale price (after splitting with the broker).
7. Rideshare Driver

© CreditDonkey
If you have a reliable car, driving others around in your spare time can provide a good second income stream.
Ride-share drivers can work for multiple companies at the same time, so you can drive for both Uber and Lyft at the same time to maximize your earnings.
The average hourly range is $12 to $15. Driving during peak commute hours and weekend nights can earn better rates. But note that you're responsible for gas and servicing your car.
Before you start, you'll need to have a valid driver's license, proof of insurance, car registration, and pass a background check.
Consider using a secondary app like Everlance to track your expenses and make filing taxes a little easier.

8. Delivery Driver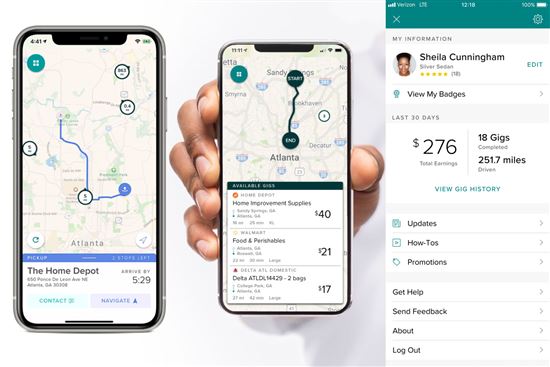 Credit: Roadie
If you don't want to drive around people, making deliveries is another way to earn a flexible income on your own schedule. There are apps to help deliver almost anything now, from packages to food to groceries.
Check out these apps that are taking delivery drivers:

Potential earnings will depend on the company you work for. Amazon Flex drivers earn $18 to $25 an hour, while those who drive for Grubhub report making closer to $12 an hour. Roadie drivers can even make hundreds on a longer-distance delivery job.
9. Small Home Business
Your hobby can become a small business. If you have persistence, it can become a fun and lucrative way to make additional income that grows over time.
The ideas are endless. Besides handmade goods, you can also sell digital products like sewing patterns, budget spreadsheets, Lightroom presets, invitation templates, etc.
Some places you can sell are:
Etsy: best for handmade items and digital files

eBay: best for refurbished or used goods

CafePress: put your designs on merchandise
10. Start Your Own Blog

© CreditDonkey
Starting your own blog can become one of the most rewarding business ventures in the long run. But it takes a LOT of hard work.
You'll most likely have to work for free for at least several months before seeing any type of monetization. After you build an audience, you can start to generate passive income via ads, sponsored content, and affiliate marketing.
In general, having a niche will make more money than a "general lifestyle" blog. Some popular niches that make good money include:
Health and fitness

Business and marketing

Parenting / Baby

Budgeting / Personal finance

Crafting and DIY

Technology

Self improvement / Relationships
Think about your hobbies, expertise, and what you will enjoy writing about. Don't be afraid to get into a super specific niche. Even a blog just about vegan dessert recipes can do well.
What Experts Say
CreditDonkey reached out to finance experts to get their advice on passive income, including how it's defined and the best ways to start earning.
Here's what they had to say:
BOTTOM LINE
Creating multiple streams of income can be challenging at first, especially while trying to find the best fit for your lifestyle and current work situation.
However, over time, it can lead to passive streams of income that can be used for multiple purposes, like paying off debt or savings.

Only $10 minimum investment
Get a diversified portfolio of real estate projects across the US
Open to all investors
Write to Samantha Tatro at feedback@creditdonkey.com. Follow us on Twitter and Facebook for our latest posts.
Note: This website is made possible through financial relationships with some of the products and services mentioned on this site. We may receive compensation if you shop through links in our content. You do not have to use our links, but you help support CreditDonkey if you do.
Fundrise, LLC ("Fundrise") compensates CreditDonkey Inc for new leads. CreditDonkey Inc is not an investment client of Fundrise.