25 Best Ways to Make Money Fast
Ad Disclosure: This article contains references to products from our partners. We may receive compensation if you apply or shop through links in our content. You help support CreditDonkey by using our links.
(read more)
Side jobs are great, but if you need cash quick, your options are limited. Here are the foolproof ways to make money right now.
Even with calendar reminders, they always sneak up on you:
Bills, loan payments, rent.
(Arguably scarier than any horror movie villain.)
And when it all falls on the same day? You know you need a back-up plan for fast cash.
Luckily, you have more options than you think. Below is a list of time-tested and trustworthy ways to make money quick, even in as little as a day.
For more tips, stick around 'til the end to learn how to tell a scam from a real money-making opportunity.
Save on Bills with Trim or Rocket Money
If you're like me, you probably have some sneaky subscriptions flying under the radar on your bank statement.
That's where apps like Trim, Rocket Money and BillSmart come in. They connect to your bank accounts, check all your recurring subscriptions, and make it easy to cut the non-essentials. Rocket Money even says there's an 85% chance they can lower at least one of your bills.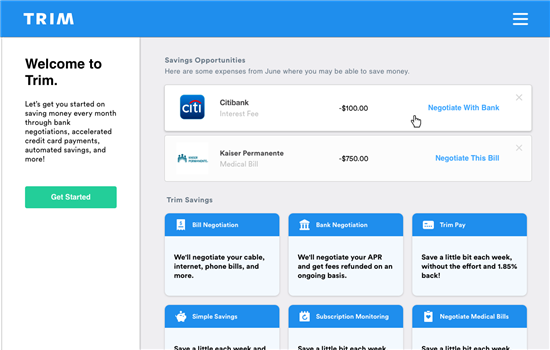 Credit: Trim
How quick is it? See savings in 1 month (or whenever your next billing cycle ends)
How much can I make? Anywhere from $5-$100, depending on what you trim or cancel
Sell Your Clutter
This may be a no-brainer, but hey—people love to buy stuff! When it comes to which websites to list your items on, both eBay and Craigslist are good options.
For specific items, try listing unused clothes on sites like Poshmark, or used textbooks on Chegg.
Consider unloading any old DVDs and other clutter for a fast buck. Don't forget to add a detailed description and high-quality photos to make your items stand out.
How quick is it? 1-8 weeks depending on the popularity of your item
How much can I make? A few bucks to a few hundred—it will depend on your item(s)
Get Paid for Easy Survey Work
Online surveys are the ultimate multitask money-maker. Get paid to share your opinions while you're catching up on your favorite TV shows at home or even waiting in line at the DMV.
Sites like Swagbucks, Pinecone Research, and Survey Junkie are 100% legit and legal.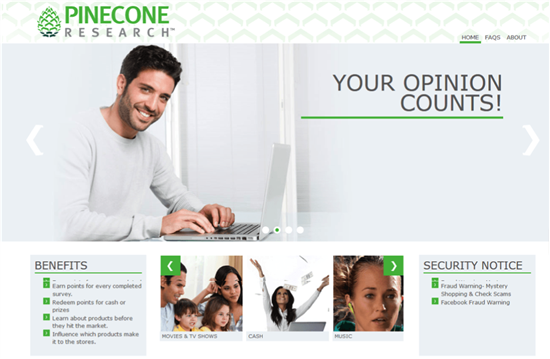 screenshot of pinecone research
Signing up is free and many sites also offer prize drawings, paid referrals, and other perks. And don't forget to take advantage of any sign-up bonuses.
How quick is it? 1-2 weeks for processing
How much can I make? $1 - $3 per hour of survey-taking (you could easily make $20 in a day)
Sell Back Unused Gift Cards
We know your aunt meant well when she sent you a birthday gift card for The Gap, but if you haven't spent it by now, chances are slim that you ever will. Instead of letting it take up space in your wallet, sell it and pocket the cash.
Sites like CardCash buy back your gift cards at up to 92% of their face value price. You can mail in physical gift cards for free, immediately cash in online gift certificates, and even find a physical buy-back kiosk near you.
How quick is it? Immediately for online and kiosk buy-backs and within 24-48 hours for physical card mail-in
How much can I make? up to 92% of your gift card face value
Run Errands or Help with Easy Tasks
If you like to lend a helping hand, be sure to check out TaskRabbit, a task-based gig app.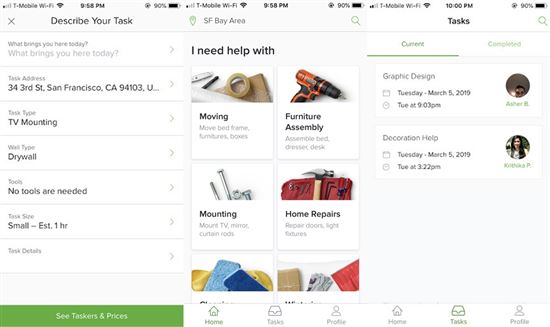 Credit: Taskrabbit
To get started, create an account, provide a government ID and pass TaskRabbit's automated criminal background check. Then, you'll be connected with neighbors who need assistance with simple tasks and errands
"Taskers" are paid by the hour to do a range of things, like assembling furniture, running errands, and even waiting in line.
How quick is it?: You can earn money from completing multiple tasks in just 1 day
How much can I make?: Most tasks earn anywhere from $15 to $80 per hour
Rent Out a Room, Guesthouse, and More

© CreditDonkey
You don't need a flashy guesthouse or empty vacation home to make an extra buck with renting. Spare rooms or even an empty bed make for the perfect quick cash opportunity.
Use sites like Airbnb, VRBO, and Vacasa will host your space and attract renters with positive references and background checks. (Craigslist is great for a lot of things, but maybe not this.)
Be sure to take high-quality photos and describe your space in detail to attract more renters.
How quick is it? Usually within 24 hours of your guest's check-in time
How much can I make? Roughly $10-$50 per night for a room, and $100-$500 for an entire house.
Rent Out Your Car This Weekend

© CreditDonkey
It's estimated that our cars sit idle for 20-22 hours per day. Really puts the $300 monthly car payment in perspective, doesn't it? That's where sites like Turo and Getaround come in.
Instead of letting your car sit in your driveway while you're at work, at home, or on vacation, you can rent it out to someone else for an hourly or daily rate.
With liability protection plans and a thorough verification process for drivers, you can be sure your car is safe in your guests' hands.
How quick is it? 1-3 days after the car reservation ends
How much can I make? Anywhere from $20-$70 per day
If you use your car too much to rent it out to others, you're still in luck. Our next pick lets you reap the benefits of your parking spot.
Rent Out Your Parking Spot

© CreditDonkey
In some cities, a good parking spot is as valuable and rare as actual buried treasure. If this sounds like your city, then you may be sitting on a parking spot goldmine.
JustPark, Pavemint and SpotHero are a few apps that let you rent out your parking space.
Whether it's a residential or business parking spot, you can charge a flat fee or an hourly rate and watch the cash add up.
If you're living in an area close to a sports stadium, convention center, or any other point of interest, you'll earn even more.
How quick is it? 4-6 days after your guest's parking reservation is over
How much can I make? $2-$6 per hour, or $10-$30 per day
Earn Cash Back for Purchases You Already Make
If you're looking to make existing purchases work harder for you and save cash in the process, then cashback may be just the thing.
Sites like Rakuten, Ibotta, and MyPoints help you earn money through online purchases and even travel bookings.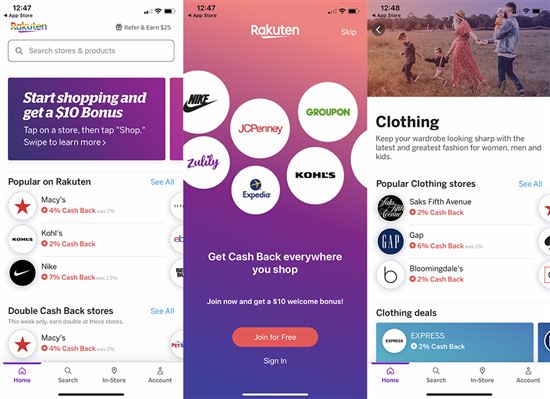 Screenshot of Rakuten
The amount of cash back you'll earn will depend on the purchase you make and which site you use, but it's not uncommon to earn even 40% in some cases.
How quick is it? Ibotta pays back instantly, MyPoints processes payments in 4-5 days, and Rakuten pays quarterly
How much can I make? Up to 40% of your purchases
Shopping for deals can sometimes take a toll. If hanging out with animals sounds like a dream, you're in luck...
Get Paid to Watch (or Walk) Pets
Many animal lovers would walk dogs for free (I'm one of them), so getting paid is just an added bonus.
In recent years, apps like Wag, Rover, and DogVacay have offered animal owners a way to ensure their furry friends are cared for in their absence.
You can get paid to walk, house, and even play with dogs and cats in your community.
How quick is it? Within 1 week of your assignment
How much can I make? Pet walkers can earn about $15 per hour, while sitters can earn roughly $40 per night
Use Your Skills to Tutor Online
Look, tutoring definitely isn't easy. But if you were born to teach and are passionate about a certain subject, it may be right for you.
Sites like Teachable or Tutor.com are great platforms for creating a comprehensive course or sharing your expertise.
Plus, if you gain a following and market your services well, it can turn into a sustainable side hustle. Think of it this way: As long as people are willing to learn, there is a need for those who teach.
How quick is it? Most sites deposit earnings every 2-4 weeks
How much can I make? $5-$15 per hour for tutoring, though earnings on a course website like Teachable will depend on the popularity of your course
Deliver Food & Groceries
The popularity of apps like DoorDash and Grubhub are a true testament to how much people love hot food being delivered to their door.
Delivering food or groceries is a fairly reliable side-hustle. If you find yourself with a few free hours during the day or week, delivering food could be a great way to earn money relatively quickly.
How quick is it? Within 2-7 days of when you make your deliveries
How much can I make? $7-$25 per hour, depending on which app you deliver with, plus tips
Become a Virtual Assistant
If you've got a knack for organization and communication, chances are you'd make a great assistant. Fortunately, you can get paid to perform these tasks from home as a virtual assistant.[2]
Build your own website or advertise general assistant duties on sites like Upwork or Fiverr. Alternatively, you can reach out to family and friends who could use a hand with personal or professional tasks
How quick is it? 1-2 weeks (many virtual assistants are paid weekly or bi-weekly)
How much can I make? $10-$50 per hour, depending on your experience and qualifications
Don't be fooled: working as a virtual assistant is no walk in the park. Score low-effort cash with the option below.
Make Easy Money by House-Sitting
Have you ever worried about the safety of your home while on vacation? Or the packages sitting outside on the front porch? You're not alone.
As a house-sitter, you can earn money simply by watching someone's home, performing easy upkeep tasks, and keeping the homeowners informed and at ease.
It's probably best to ask friends and family first, but you can also try apps or websites like Housesitter.com if you have several good references.
How quick is it? Many homeowners pay upfront for house-sitting services or upon their return
How much can I make? $20-$50 per day
Get Paid to Test Websites & Products
Before a product ends up in consumers' hands, it goes through rounds and rounds of product testing. Who is testing these products? Well…you.
Product testers are regular people paid by companies to test and share their thoughts on different products. And it's not too hard to become one.
Companies like UserTesting, MySoapBox, and McCormick pay people to test their products. Just be sure to check each company's website for eligibility requirements.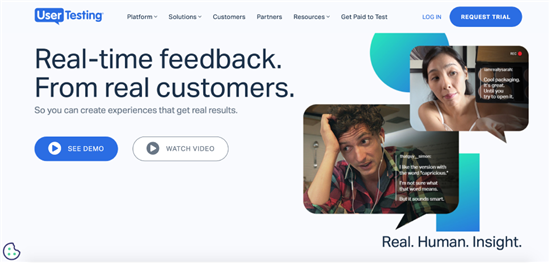 screenshot of usertesting
How quick is it? Roughly 2-4 weeks after your product testing assignment has finished
How much can I make? $10-$300, depending on the location of the product testing
Register as a Mystery Shopper
We know—it sounds fake. But mystery shopper programs can be 100% legit and legal. Here's how they work:
Mystery shopper companies, like Best Mark and Sinclair Customer Metrics, are hired by retail businesses to help improve their customers' shopping experience.
Then, mystery shoppers go into stores, purchase items, and report the experience back to the program. You get paid a fee per assignment and reimbursed for the purchases you make in the store.
How quick is it? 3-4 weeks for payment processing
How much can I make? $8-$50 per assignment, and an average of 10 assignments per month
Donate Life-saving Plasma

© CreditDonkey
It's not for the faint of heart, but donating plasma could help someone survive cancer, develop new treatments for rare diseases, and even save a life.
If that isn't enough, you'll also get paid $50. Check with sites like CSL Plasma and DonatingPlasma.org for donor requirements and donation centers near you.
Keep in mind that donating can have mild side effects, like dizziness or fatigue.[3] But if you are healthy and meet all necessary requirements, this is a safe and legal way to earn cash quickly.
How quick is it? Your first visit may be 2 or 3 hours, but following appointments are a quick 90 minutes
How much can I make? $20-$50, depending on how much plasma is collected; you can donate 1-2 times weekly at the most and earn up to $400 in a month
Share Your Expertise via Webinar
Don't worry—you don't need to be an astrophysicist to lead a webinar. People from all walks of life have a story to tell.
Whether you have experience raising special needs kids, regularly train for marathons, or have lived in 15 different countries, people will likely pay a small sum to learn something from you.
Host your webinar on a site like GoToWebinar, and put some effort into marketing your webinar ahead of time for the best results.
How quick is it? 1-2 months to create and advertise your webinar; this option will obviously take a little more time, but could definitely turn into a sustainable side hustle if you put some effort into it
How much can I make? $200-$1,000
Reach out to your personal network and try charging $10-$20 per person initially to gauge the response. Then, work up from there. It may take a little while to cultivate interest in your webinar, but the earning potential is high.
Lead Tourists Around as a Tour Guide
If you live in a big city or near a tourist attraction, you've probably had your fair share of annoying encounters with travelers.
But have you thought of those tourists as a money-making opportunity? Companies like ToursByLocals or Viator need savvy city natives to help guide tourists around, and you can earn a fair amount for your insider knowledge.
Just make sure you're able to offer a quality experience to visitors. The higher reviews you get, the more tours you can book.
How quick is it? Within 1 week of giving your tour
How much can I make? $100-$500 per tour
Pawn Your Treasures
It won't be easy pawning grandma's antique china, but it'll earn you much-needed cash fast.
The upside is that, if you find yourself in better circumstances down the road, you can come back for the items you've pawned. That is, if someone hasn't bought it already.
Keep in mind that you won't get full retail price for your valuables. But if you have a couple good items (think jewelry, quality power tools, or a game console), you can walk out with a good chunk of change.
How quick is it? 1-2 hours
How much can I make? 25%-60% of your item's resale value; the average pawnshop loan is between $75 and $100[4]
Earn Royalties from your Photos
Phone cameras are better than ever, so why not use yours to make some easy cash? If you consider yourself a shutterbug, check out one of the below sites to sell your photos and videos.
Foap: This app accepts photos and videos and pays you when a brand, agency, or any person decides to buy it. (Keep in mind that you'll split the profit 50/50 with Foap.)
Getty Images & iStockPhoto: Apply to become a Getty/iStock contributor by submitting 3-6 sample images. Then, get paid in royalties between 15-45%.
How quick is it?: This mostly depends on the demand for your photos, but some users earn money within a couple weeks
How much can I make?: Roughly $2 - $5 per photo, so you're better off uploading multiple photos and videos
Ask Your Boss for a Raise
If you've worked hard at your dayjob, get ready to reap the rewards. The typical raise for top-ranking employees in 2020 is 4.6%.
When you're ready to make the case to your boss, cite specific examples of your good job performance. If you've really hustled, this should be an easy task. And remember, be confident! You've earned this.
Drive with Uber or Lyft
There's a reason Uber and Lyft are still popular. They're a cheap option for riders and an easy money-making gig for drivers.
Signing up is quick and easy. Just download the app of your choice, provide a valid driver's license and insurance, and confirm you have a car in good condition.
Then, you're ready to drive. And remember, you can always stack your earnings by driving for more than one app!
How quick is it? Same day payment and cash-out (in most cases); some banks take 2-3 days
Babysit for Friends or Family
If you ever babysat as a teen, you know it's a quick and easy way to earn cash.
You might even earn more now if you have valuable skills like driving, cooking or CPR.
Ask your family friends with kids if they need babysitting services. Chances are, they'll be glad to take you up on your offer. You can also check out babysitting sites like:

How quick is it? Get paid in a few hours if sitting for friends and family; sites like Care.com take 1-3 days to pay
How much can I make? You set your own rates, so it's up to you! Average pay for a babysitter is $15-20 per hour
Get Sign-Up Bonuses from Investing Apps
It's true that investing is best for long-term returns. But you can still earn quick cash from investing apps.
How? By taking advantage of sign-up bonuses. Check out the offers below to get started.
Tips for Avoiding Scams
While there are a lot of legit ways to make money fast, there are plenty of scams out there, too.
Here are a few tips to keep you safe from money-making scams.
Do not pay for anything upfront.
Legit companies should never ask you for upfront payment in exchange for a money-making opportunity. Similarly, avoid sites or companies that require memberships.
Never give out personal info.
Asking for your name or email is one thing, but asking for your Social Security Number or bank account info is another. If any company asks for very personal, sensitive info, steer clear.
When in doubt, check BBB.
Most legitimate companies will have a profile on the Better Business Bureau website. Some are even accredited by the BBB. If a company has no presence on the BBB site, it may be a red flag.
Do some internet sleuthing.
If you're skeptical about a money-making opportunity, the internet is your best resource to get the truth. Check out popular forums like Reddit to see if others have experience with the company.
What Experts Say
Making a living isn't always glamorous. Lots of people are afraid of getting stuck in unfulfilling jobs.
In an unpredictable job market, you don't have to go it alone. As part of our series on gig work and employment, CreditDonkey asked a panel of industry experts for their advice on the best way to find one's purpose within a job.
Here's what they said:
Bottom Line
While these ideas won't make you rich or earn you a six-figure salary, they're quick, proven ways to earn fast cash. Whatever you choose to do, your persistence and patience will pay off. Every little bit of extra cash makes a difference, so consider stacking your efforts to earn even more.
References
Holly Zorbas is a assistant editor at CreditDonkey, a personal finance comparison and reviews website. Write to Holly Zorbas at holly.zorbas@creditdonkey.com. Follow us on Twitter and Facebook for our latest posts.
Note: This website is made possible through financial relationships with some of the products and services mentioned on this site. We may receive compensation if you shop through links in our content. You do not have to use our links, but you help support CreditDonkey if you do.
Paid non-client endorsement. See Apple App Store and Google Play reviews. View important disclosures. Investment advisory services offered by Stash Investments LLC, an SEC-registered investment adviser. This material has been distributed for informational and educational purposes only, and is not intended as investment, legal, accounting, or tax advice. Investing involves risk.