How Much to Really Spend on an
Engagement Ring
Ad Disclosure: This article contains references to products from our partners. We may receive compensation if you apply or shop through links in our content. You help support CreditDonkey by using our links.
(read more)
Forget the "2 months' salary" rule. Find out how much money you should REALLY spend on an engagement and wedding ring here.

© CreditDonkey
Thinking of popping the big question soon? One of the first thoughts in your head is probably:
"How much should I spend on the ring?"
This decision is both emotional and rational. You have two major things to consider:
The goal is to find a balance between the two.
Of course, every person's situation is different. And that's why it's important to know where you stand. Do not rely on an outdated two months' salary rule that was invented by a marketer.
Rule of thumb: Spend 2 months of your income on an engagement ring. If you are making $1000 per month, spend $2000 on an engagement ring. If you're making $2500 per month, spend $5000. Sounds simple, but the old 2-month rule of thumb is a BAD idea. We'll explain below.

In this article:
PRO TIP: You should research pricing online to avoid overpaying. Online retailers are up to 40% cheaper than local jewelers and many offer free shipping and returns. If you want to build your own engagement ring, check out Brilliant Earth.
Your Lady's Expectations
There's no getting around it. The ring does matter. And here's why:
An engagement ring is a symbol of your love and commitment. It shows you're invested in a shared future.
Many women already have their perfect ring in mind, down to the style, diamond shape, etc. It'd be a big disappointment to get a ring that's not exactly what she wants. This tool lets you build her dream engagement ring.
Women are the ones who wear the ring every day. This is going to be the single most important piece of jewelry she owns. And naturally, she wants something that makes her happy to look at and show off to her friends.
How much should you spend on an engagement ring?
According to recent surveys, most American couples
expect
to spend between $1,000 and $5,000 on an engagement ring. The
actual
average cost for an engagement ring
is over $6,000.
With all that said, most women are reasonable and just.
They will love and appreciate the fact that you spent the effort to find the perfect ring. Most women are not looking to bankrupt you with unrealistic requirements.
Your Financial Situation
You have your future to think about too. After all, finances merge when you get married. So along with her expectations, an equally-important factor to consider is what you can afford.
There is no right or wrong answer. But there is a good way to look at it:
You should not put yourself into a crazy amount of debt for the ring. Most young professionals are already up to their necks in student loan debt. Plus you have the rest of your life to think about.
Here are some things that might help you determine your financial ability:
Your current income
Your expenses: Things like food, bills, and any debts you're currently paying, like student loans and car payments.
Your savings: How much can you actually save per month if you cut down on extraneous things? How much you have saved up already?
Your potential income: Are you at a job with a lot of growth potential in the upcoming years? If yes, you may want to put that into consideration. But don't go overboard.
Your ethics: Diamond mining can sometimes come with environmental and social concerns. Choose a diamond seller wisely, and consider a site like Brilliant Earth which carries sustainable, beyond conflict-free diamonds.
Using these factors, you should be able to estimate how much you could reasonably spend. Ideally, you want to be able to buy the ring without financing so you don't incur debt. Or at least you'll want to be able to pay off the debt you might incur in a couple of months.
Tip: Don't spring for colorless, flawless diamonds. H color and VS2 clarity diamonds are nearly colorless, eye-clean, and way more affordable. Play around with your search filters to see the price difference for yourself.
How many months salary do you plan to spend on an engagement ring?
Calculate Your Budget
Salary Rule: You should spend 2 to 3 months salary on the engagement ring. For example, if you earn $48,000 per year, you should spend $8,000 to $12,000 on the ring. If you earn $60,000 per year, you should spend $10,000 to $15,000.
BUT your personal budget should depend on your financial situation and not an arbitrary salary rule. You need to consider your lifestyle, debt, and current savings.
You can use this engagement ring budget calculator as a guideline, but only you know your own financial situation.
Diamonds are expensive, and it's hard to know if you're getting a good deal.
It feels like every time you walk into a jewelry store, the prices have gone up. You don't want to overspend on something as important as an engagement ring, but you also don't want a ring that looks cheap.
Get our Engagement Ring Email
To help you buy the best diamond ring, we'll send you expert, money-saving guidance on ring shopping and diamond mistakes to avoid.
Why "2 Months' Salary" Rule No Longer Works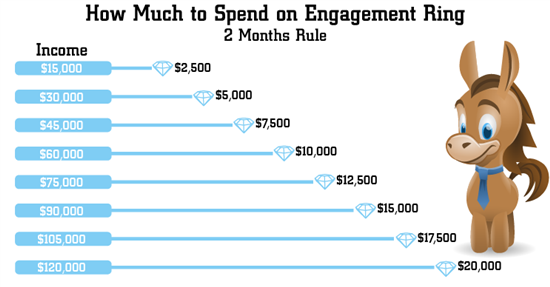 © CreditDonkey
Did you know the two month's rule was started by a De Beers ad? De Beers happens to be the same company that convinced the entire world that men need to propose with a diamond.
If you obey DeBeers' rule, that means that if you make $3,000 per month, you should spend roughly $6,000 on the ring.
However, that rule has some serious flaws. After all, it was invented to get you to pay more money to a diamond retailer.
Deciding
how much to spend on an engagement ring based on your salary
is the #1 mistake you can make. Spend what you are comfortable with, whether it is $1,000 or $50,000. We'll show you
how to find the perfect ring
for your budget.
First of all, most people get married in their late 20s, when they are still in the beginning of their careers. They haven't come close to reaching their full earnings potential. Plus, you have to calculate what you actually take home in net pay as opposed to your gross salary. Unfortunately they are quite different.
Secondly, most people graduate with student debt. Combined with the increasing cost of living, spending thousands of dollars on a ring may not be feasible. Especially when you're trying to get out of debt as quickly as possible.
If you want to stretch your budget further, check prices online first. Online retailers offer good quality, usually for much cheaper than a local jeweler.
Other rules
: Here are some other "salary rules" you've probably heard:
3 months' salary: That's 25% of your earnings on a ring.

1 month's salary: This is probably more realistic for young couples today. This is less than 10% of your annual salary. It could be used as the goal, but only you know your personal situation.
Average Engagement Ring Cost
In 2022, Americans spent an average of $5,225 on an engagement ring (down from $6,163 in 2016, and the 2019 average of $7,750). The average center diamond size for an engagement ring is between 0.8 and 1.2 carats.
A one-carat diamond engagement ring costs an average of $5,500. 81% of Americans think the engagement ring shouldn't cost over $5,000, but the national average actually spent is over $7,000.
Don't be pressured into a ring you can't afford. Ignore the "two months salary" rule and set a budget for a ring that she'll love.
It's always good to have a basis for comparison. Here is the average cost and carat size of diamond engagement rings in different countries.
| Country | Average Cost (US $) | Average Size (carat) |
| --- | --- | --- |
| United States | $7,750 | 1.0 |
| Canada | $3,500 | |
| United Kingdom | $2,000 | 0.5 |
| China | $3,500 | 0.5 |
| Australia | $5,000 | 1.0 |
To give you a better idea, see pictures of recently designed diamond rings here.
Don't Be Pressured by the National Average
: We get it that you may want to measure up to the average man. However, if the average is still a lot higher than you can afford, you should NEVER feel pressured to match it. Remember that certain large cities often have much higher
average diamond sizes
. And you still need to think about your own financial situation.
Find Your Own Rules Instead

© CreditDonkey
The best way to make sure you're both happy is to have an honest conversation about expectations and finances. If you're going to share a life together, you really should be on the same page about things like this.
You should have an honest chat about where you are financially and what your goals for the future are. For instance, do you want to save money for a down payment or pay off student loans? Then you can figure out how the engagement ring fits in with those goals.
For example, let's say you already have $1,000 and you can save a couple hundred dollars a month. That means that after 5 months of savings, you'll be able to afford a $2,000 ring. Once you have a number in mind, you can work to find exactly the kind of ring she would like that fits within that budget.
How much are you budgeting for an engagement ring?
Talking about the cost of the ring may not be romantic, but it's important. Maybe she doesn't even want a diamond. Maybe she's frugal and appalled by the thought of spending more than $500 on a ring. Either way, you want to know.
Picking Engagement Rings Together
Do you plan to go engagement ring shopping together?
More and more couples are choosing to shop for the engagement ring together. Over 40% of women want to be involved in the ring selection process. Shopping together is a great way to be certain that she gets a ring that she'll love.
If you really have no clue what kind of style she likes, then it's even a good idea to let your girlfriend pick out her own engagement ring. This way, she has a say in what she likes instead of you taking a blind guess.
In fact, you can shop together and still keep the element of surprise. You can talk about stone and metal preferences and have your girlfriend pick out a few setting styles she likes. You can then choose the final design on your own and plan the surprise proposal.
Millennial Spending on Engagement Rings
Is $3,000 enough to spend on an engagement ring?
Millennials age 18-34 spend an average of just over $3,000 on an engagement ring, according to a TD Bank survey. This is far below the national average spending of $7,750.
In a survey conducted by CreditDonkey, we found that 59% of Millennials (25-34) and 65% of Gen Z (18-24) think that engagement rings should cost less than $3,000. 19% of Millennials answered between $3,000 and $5,000, while 22% said over $5,000.
43% of Millennials also said it's okay to have a fake engagement ring. And 37% even said engagement rings are not necessary for marriage.
Where to Buy an Engagement Ring?
Do you plan to buy an engagement ring online or in store?

Shop for diamonds at Brilliant Earth, a CreditDonkey recommended partner for socially-responsible diamonds.

Shop for diamonds at Whiteflash, a CreditDonkey recommended partner for super ideal cut diamonds.
Things to Consider
Have an idea for a budget? There are a few other things to consider before putting down money for a ring:
Treat her as seriously as you treat yourself: If you spend quite a bit of money on your own hobbies and toys, then you should be willing to spend just as much on her ring.
Take your time: A purchase this big should never be rushed or taken lightly. Not only will you decide on the size, style, cut and color of the diamond, you'll also have to do some research on whether buying online or instore works best for you.
Other future large purchases: Maybe there are other milestone purchases coming up, such as buying a house. Make sure you know how the ring will affect that. Or maybe the two of you find that taking a dream, once-in-a-lifetime trip together is more meaningful.
Expensive is not the same as thoughtful: If you're going broke buying a ring you can't afford, that's not showing you care. That's just putting your joint financial future at risk. Sure, your bride may have a beautiful ring on her finger, but will she be happy if you're struggling to make ends meet every month because of it?

With low-cost, fully-customizable jewelers, you can design the perfect ring for your fiancée without putting financial stress on your young marriage.

Plus, there are many ways to show you care without going broke. Trying planning an unforgettable proposal. Maybe look into a one-of-a-kind handmade ring from a small independent jeweler. Or perhaps your grandmother's ring would actually be the perfect way to show her that she's part of the family.
Did you know? Over 50% of women say that they'll take a fairy-tale proposal over a large engagement ring any day. The proposal is going to be one of the most special moments of a girl's life, and a story she'll want to tell forever.

Should You Borrow Money to Purchase an Engagement Ring?
If you can't afford a ring right now, the best thing would be to wait. Put money aside each month until you can buy the ring in cash. But that might not be possible, especially when you have other loans to deal with. Saving up what you need could take a year or more.
We get it that you might not want to wait to propose. In that case, you could consider getting a cheaper ring, financing the ring or putting it on a credit card. But be careful: financing doesn't mean you should pick the largest diamond you can charge. You still need to choose one that fits within your budget.
The more cash you can bring to the table upfront, the better. If you must borrow the rest, develop a pay-off plan (the wedding date is a great deadline).
Some credit cards come with 0% APR promotional periods if you're a new customer. But you need to have a feasible plan to pay off the balance before the promotional period ends. If you need more time, try to find a credit card with low interest.
Some diamond retailers will have financing options too. But be careful because they could have some tricky terms. The interest rate is also usually very high.
What about borrowing the money from a family member? This option has pros and cons. The good thing is that a family member won't do credit checks and, most likely, won't charge interest either. However, if you don't pay back the money in a timely manner, the relationship could be ruined forever. If you go this route, make it as official as possible, with a written contract and payment terms.

How to Save Money on an Engagement Ring
This section has some tips on how you can lower the cost of the ring even more:
Don't shop during peak times
Avoid buying a ring between Thanksgiving and Valentine's Day. Proposals are at an all-time high during this period, which means the engagement ring prices are too. Also plan ahead for the next step by knowing the best time to buy your wedding rings.
Know before you go
Your knowledge of diamonds could play a major role in how much you spend at the jewelry store. So, before you go, research the 4Cs (carat, clarity, cut, and color) so you'll have the knowledge you need to negotiate the best deal.
Go just under whole and half carats
Whole and half carat diamonds will jump significantly in price. You can save almost 20% just by buying a diamond a fraction of a carat smaller (0.9 instead of 1.0). And nobody will be able to tell the size difference.
Don't get too caught up on quality
The diamond color and clarity are not as important as you think. Don't pay so much for features you can't appreciate.

Instead, focus on getting an excellent cut. The excellent cut will make the diamond more brilliant and hide flaws and tints, so you can go cheaper on color and clarity.

For the best balance of price and quality, we recommend

H color

and

VS2 clarity

. This will ensure that you get a white diamond that appears eye-clean, yet won't break the bank.

For more of these expert tips, see our full article on how to get a diamond for best value.


Make the center stone look big with a flashy setting
If you can only afford a small diamond, you can still make it look larger with certain settings. The halo setting is a favorite for making a huge statement with less. Not only is it pretty and trendy, it has serious bling factor and makes the center stone look a lot bigger.
Consider an alternative shape or stone
Have you considered a cushion or oval shaped diamond? How about a sapphire, emerald, or moissanite gemstone? These options are easy on the eye and much more affordable than your standard round or princess cut diamond ring.

You could also consider a birthstone for a thoughtful, personalized ring that won't break the bank:


January - Garnet
February - Amethyst
March - Aquamarine
April - Diamond
May - Emerald
June - Alexandrite

July - Ruby
August - Peridot
September - Sapphire
October - Pink tourmaline
November - Topaz
December - Blue topaz

If you truly cannot afford a diamond but want an alternative that looks like a diamond, consider popular

diamond alternatives

such as

moissanite

or cubic zirconia. You'll be able to get a much larger diamond-like stone on a much smaller budget. Just make sure that your sweetie is okay with it.

Go for 14k white gold
White gold is a much cheaper alternative to platinum, but looks almost identical. For the best value, choose 14k white gold. It has less gold content so it costs less than 18k. But it looks the same and plus, is more durable.
Customize the ring online
Shopping online for the ring makes customization even easier. Not only will the engagement ring be unique, but you could possibly save a wad of cash by thinking outside the box. Diamonds at online retailers can be as much as 50% cheaper than popular mall jewelry stores.
Check out some estate sales
There are hidden treasures to be found at estate sales. But make sure to request a private appraisal before purchasing.
Average Cost of Engagement Ring by State
The national average engagement ring cost in 2019 is just over $6,000. People in South Dakota spend the least with an average of $3,005. Washington spends the most on engagement rings with an average of $10,109, while California comes in second at $9,482.
Here is the average spend on engagement rings per state:
| State | Average Engagement Ring Cost |
| --- | --- |
| Alaska | $6,143 |
| Alabama | $5,255 |
| Arkansas | $5,422 |
| Arizona | $6,684 |
| California | $9,482 |
| Colorado | $5,858 |
| Connecticut | $4,261 |
| Washington D.C. | $8,545 |
| Delaware | $4,024 |
| Florida | $8,809 |
| Georgia | $6,868 |
| Hawaii | $5,733 |
| Iowa | $4,939 |
| Idaho | $5,197 |
| Illinois | $9,197 |
| Indiana | $4,181 |
| Kansas | $8,947 |
| Kentucky | $7,918 |
| Louisiana | $7,959 |
| Massachusetts | $8,193 |
| Maryland | $7,553 |
| Maine | $3,184 |
| Michigan | $8,535 |
| Minnesota | $7,050 |
| Missouri | $7,071 |
| Mississippi | $4,106 |
| Montana | $6,353 |
| North Carolina | $7,133 |
| North Dakota | $6,631 |
| Nebraska | $5,873 |
| New Hampshire | $6,832 |
| New Jersey | $8,842 |
| New Mexico | $5,996 |
| Nevada | $6,560 |
| New York | $8,785 |
| Ohio | $7,796 |
| Oklahoma | $5,294 |
| Oregon | $5,126 |
| Pennsylvania | $7,552 |
| Rhode Island | $5,185 |
| South Carolina | $7,874 |
| South Dakota | $3,005 |
| Tennessee | $7,368 |
| Texas | $8,063 |
| Utah | $3,682 |
| Virginia | $7,934 |
| Vermont | $4,911 |
| Washington | $10,109 |
| Wisconsin | $5,661 |
| West Virginia | $4,968 |
| Wyoming | $6,670 |
| United States | $7,750 |
2019 engagement ring sales data courtesy of Ritani.
Engagement Ring Vs Wedding Ring
After a successful proposal, it's now time to think about how much money to spend on the wedding rings.
Though both wedding rings and engagement rings are symbols of love, they have different styles and meanings.
The engagement ring is presented at the time of the proposal, as a symbol of commitment to the relationship. It usually has a diamond (or other gemstone) center, so it's more expensive.
Wedding rings are exchanged by both the bride and groom during the wedding ceremony, as a symbol of unity from this day forward. Wedding bands are simpler in design and don't contain a large center diamond, so they usually cost less.
How Much to Spend on a Wedding Ring?
On average, couples spend $1,100 on the bride's wedding ring and $510 on the groom's. The cost of the wedding ring is in addition to the engagement ring, so you would need to budget for both.
Couples should discuss and shop for the weddings rings together. So this is usually a joint financial decision. How much you spend is a personal choice and should fit your budget. Don't go into debt over it.
Some factors to consider include:
Your personal preferences
A plain gold wedding band can only cost a couple hundred bucks, but an eternity ring with diamonds could cost over $2,000.

Men can choose an expensive gold band with diamonds, which will cost more. Or there are tons of unique, affordable options in alternative metals and materials (costing as little as $20).

Matching or no?
If she wants the wedding ring to exactly match her engagement ring, then your options will be limited. If it doesn't matter as much, you'll have more flexibility to find a complementary wedding ring.
Your lifestyle
If you're very active, you'll want a more durable ring. Luckily for men, alternative metals like titanium are very strong and budget-friendly. For active women, platinum is the most durable metal, but also more expensive.
Your other expenses
You're probably going to be spending more than usual around this time, such as for the wedding itself and the honeymoon. Consider what you value the most. Maybe you'll decide to spend less on rings and more on the honeymoon.
Ultimately, the cost will depend on what you value and what you can afford as a couple.
What the Experts Say
There's a lot that goes into buying this gift for the most important person in your life.
As part of our series on engagement rings, CreditDonkey asked a panel of industry experts to answer some of readers' most pressing questions. Here's what they had to say:
Bottom line
How much you spend on a ring is a very personal choice. To make sure everyone is happy, it's best to get expectations lined up. Have an open and honest conversation about the engagement ring cost.
Talk about what she wants and how that works (or doesn't) with your financial situation. Forget about the "month's salary" rules. Come up with a budget that works for both of you.
A reasonable budget shows your beloved that you are making an investment for your future together. It should also be within what you can reasonably afford.
Remember: The ring is the most important piece of jewelry she will ever wear. It is the most important gift you will ever give, so you should both feel happy and comfortable with the decision.
If you're ready to take a look at some diamonds, these jewelers are a great place to start:
Allison Martin is a contributing writer at CreditDonkey, a diamond jeweler comparison and reviews website. Write to Allison Martin at allison@creditdonkey.com. Follow us on Twitter and Facebook for our latest posts.
Note: This website is made possible through financial relationships with some of the products and services mentioned on this site. We may receive compensation if you shop through links in our content. You do not have to use our links, but you help support CreditDonkey if you do.
---