Mint Review: Is It Good?
Ad Disclosure: This article contains references to products from our partners. We may receive compensation if you apply or shop through links in our content. You help support CreditDonkey by using our links.
(read more)
Mint is one of the most popular free personal finance tools for budgeting. However, it does have some weaknesses. Is it right to manage your money? Read on.
Overall Score

3.8

---

Price

5.0

Goal Tracker

4.0

Customer Service

3.0

Budgeting

4.5

Ease of Use

5.0

Investment Tracking

3.0

Retirement Planning

2.0
5-point scale (the higher, the better)
---
Pros and Cons
Free to use
Robust budgeting
Goal setting and debt payoff
No retirement calculators
No more online bill pay
---
Bottom Line
Free budgeting tool for daily money management
What Is Mint?
Mint is a free money management app that lets you connect all your financial accounts. So instead of individually logging into all your accounts, you can see everything in one place. This gives you an complete view your entire financial life.
You can connect accounts such as:
Bank accounts like checking, savings, and CDs

Investment accounts from brokerages

Credit cards

Mortgages and other loans

Manually add assets like cars, jewelry, art, etc.
Mint pulls information from each account and auto-categorizes transactions for you. It tracks your income and spending. It pulls in several months of data to give you an overall view of where you stand financially.
Mint is great for day-to-day money management. It's more focused on your current financial situation. It has many useful tools, such as budgeting, debt planning, short-term goal setting, and bill reminders. It also gives you a free credit report so you can monitor your credit usage.
In this review, we'll go over each tool in detail.

© CreditDonkey
Is Mint Safe? Mint claims to take security very seriously. They encrypt your data with 256-bit encryption. They also use VeriSign to increase the security of the data you transfer from your financial institutions. They also use multi-factor authentication to prevent fraudulent use of your account.

Mint Pros & Cons
PROS:
Completely free to use

User friendly web platform and mobile app

Link to thousands of financial institutions

See your entire financial picture in one place

Real time updates

Income and expense tracking

Budgeting by category

Goal setting and tracking

Bill reminders

Can add manual transactions

Custom alerts

Free credit report from TransUnion

256-bit encryption security
CONS:
Weak investment tracking tool

No retirement planning

No more bill pay through Mint

Customer service only by online chat
Contacting Mint Customer Support: The only way to contact Mint customer support is via the online chat. Support representatives are available 5 AM - 9 PM every day.

How does Mint make money?
You don't pay anything to use Mint. But they do offer partner offers when they offer you "advice."
For example, if you don't have any credit cards and it's hurting your credit score, Mint may suggest that you open a credit card or two. If you happen to open the recommended cards, Mint gets a cut from the credit card company for the referral.
Mint also partners with banks, insurance companies, brokerage firms, and lenders.
Managing Transactions
Mint lets you see all your transactions across all accounts in one place. So if you have multiple bank and credit card accounts, you'll see all your income and expense events together.
Mint will auto-categorize each transaction, but you can change it if it's incorrect or you want to use a more specific/broader category.
Some features include:
Create rules to always place a specific transaction in a certain category

Tag transactions such as reimbursable, tax-related, etc.

Add manual transactions and deduct from last ATM withdrawal

Split one single transaction into multiple categories

Exclude transactions that you want to hide from budget and expenses
It's important to keep your transactions in order, as this will affect your budgeting, income/expense reports, and other features.
Budgeting
Mint is best known for budgeting. You can break down your monthly budget by category. You can choose which categories you want to budget for and assign a budget to each.
Mint will automatically pull info from your accounts and track your spending in each category. This allows you to see exactly where you are over or under budget. For example: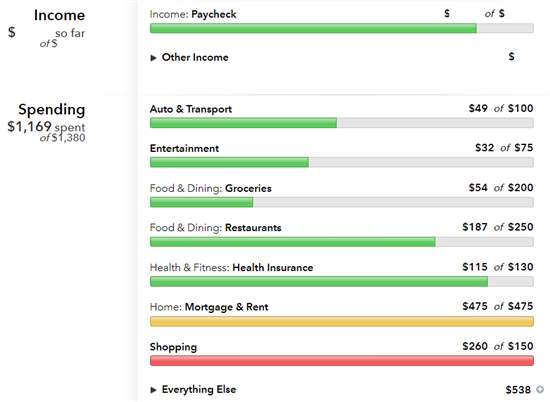 Screenshot of Mint
On the side, it'll also tally up your total income and spending. So you can see how much of your budget you've used overall.
Tracking offline budgets (like for rent, babysitter, etc.), is a bit more complicated. You have to manually add offline expenses in "Transactions". For example, if you pay your babysitter in cash, you'd add a budget category for "Babysitting & Daycare". Then as you pay the babysitter, you will add manual transactions and categorize them as "Babysitting & Daycare." This way, Mint will pull the data from your transactions.

You can also budget expected income and Mint will track your income over the month. It tells you how much you will have left after your expenses and savings goals. However, unless you get paid a standard salary, this can be risky as your budget is based on money you "think" you will make.
Overall, Mint's budgeting tool is very useful for those who like to break down by category. Just be careful about being tempted to spend more if you see that you're under budget in certain categories.
Goal Setting
Mint allows you to create short-term and long-term goals (such as pay off debt, buying a house, emergency fund, college, etc.).
After you've picked a goal, Mint will help you calculate how much you need to save in order to reach the goal by the target date. You must link an account to each goal in order for Mint to be able to track it. As you save money each month, Mint will update the goals with your progress.
I find this feature a little glitchy sometimes. For example, it doesn't recognize that I've deposited money into the accounts towards the goals so it still shows $0 this month (above screenshot).
Mint's goal setting is best used for short term goals. For long term goals (such as retirement), this tool is not sufficient. It doesn't project growth of your specific investment portfolios. For more serious retirement planners, look into Empower's tools instead.
Debt Payoff Planning
Mint offers debt payoff planning as part of the goal setting feature. It helps you create a plan according to your budget.
Start by choosing "Pay off Credit Card Debt" as a new goal. Mint will automatically detect which accounts have debt. You can select the accounts you want to pay off.
Enter how much you can afford to pay each month. Mint will tell you how long it'll take to pay it off and how much you'll pay in interest. You can play around with the slider to see how different amounts will affect pay off.
Bill Reminders
Mint has a pretty good bill reminder tool. It's one of the more comprehensive ones from free personal finance apps. You can add bills for:
Credit cards

Mortgages and loans

Utility accounts (like DirecTV, Verizon)

Entertainment accounts (like Netflix)

Offline bills (like for rent, cleaner, babysitter)
Mint will show you the overall amount of bills due this month and how much cash and credit you have available. You can track the due date of each bill, see minimum payments, and mark bills as paid.
Mint also does a good job of alerting you when a bill is about to be due by email and push notification. You can choose how far in advance you want to be notified.
Note: Mint used to allow you to pay bills directly from the platform, but this feature is no longer supported as of June 2018. You'll still have to pay bills

Investment Tracking
Mint will combine all your investment accounts to show the overall performance of your portfolio. It'll compare your returns to market indexes such as S&P 500, DOW, and NASDAQ.
Under the graph, Mint will also provide the entire list of your holdings. You can see the best performers, worst performers, and biggest movers. This information is helpful so you can decide if you want to switch any out.
Investment tracking is not Mint's main purpose, so the platform is pretty weak in this area. It's merely an aggregator. It doesn't provide any advice on your investment strategy.
I find that Mint's investment tracking is very glitchy. Half the time, I get an error message saying that it can't find any information.
And Mint can't seem to break down your portfolio's allocation at all, which is absolutely no use.
If you're serious about investment tracking and improving your strategy, look to Empower instead. It has a free investment checkup tool that analyzes your strategy and give recommendations to reach your optimal allocation.
Credit Monitoring
This is a pretty cool bonus. Mint gives you free credit score and monitoring from TransUnion.
It also gives you details on the factors that affect your credit score, such as:
Your on-time payments

Credit usage percentage

Average age of your credit

Total number of accounts

Recent credit inquiries

Derogatory remarks
This information is very helpful so you can monitor how you're doing and improve your credit.
Custom Alerts
You can set up customized alerts to stay on top of your finances. Alerts options include:
Credit score updates and credit changes

If an account drops below a certain balance

If available credit drops below a certain number

If there's unusual spending in a category

If there's a large purchase above a certain amount

If you're charged a bank fee

Bill reminders
This helps you monitor your accounts in real time. You know right away if something goes off track and you can take steps to fix it or adjust your budget.
How It Compares
Empower: Both are free to use, but they have different strengths. Mint is better for day-to-day money management such as budgeting, goal setting, and bill reminders. Empower is better for long term financial planning, as it offers advanced investment tracking and retirement planning tools.
Credit Karma: Credit Karma offers free access to your credit score, similar to Mint. They do not offer budgeting software, though. Credit Karma updates your credit score from two credit bureaus weekly. Mint updates your credit score monthly and only pulls from TransUnion. Credit Karma does let you track spending, but it's amateur at best.
Quicken: Quicken has an annual subscription fee, whereas Mint is free. Quicken is a desktop software that needs to be installed on your computer. You'll need internet connection to import your accounts and manually initiate updates. Mint operates in the cloud and updates in real-time on any device.

Both Quicken and Mint are good for budgeting. Quicken does offer more features such as bill payment, more advanced investment tracking, and retirement planning, but only at more premium tiers.

EveryDollar: EveryDollar is also free, but only if you want to manually enter your transactions. To be on the same playing field as Mint, you'll have to pay for the premium service, which has a monthly subscription fee. EveryDollar is more of a barebones budgeting tool, but lacks robust reporting options.
Bottom Line
If you want a free resource to help you budget, Mint offers a great service. If you are a heavy investor, though, you may find more robust options with other services.
Mint is good for managing your current financial situation. The budgeting tool is robust and we like that you get a free credit report. As you get your savings and investments on track and start to plan for more long term wealth building, you may find that you want the more robust features of other programs.

Real-time spend notifications.
Block and unblock cards easily.
Teach financial independence safely.
GoHenry card is issued by Community Federal Savings Bank, member FDIC

Capital One Shopping compensates us when you get the Capital One Shopping extension using the links provided.

Order Online
No Credit Check
Try for Free
Your funds will be held at SouthState Bank, an FDIC-insured institution
Write to Anna G at feedback@creditdonkey.com. Follow us on Twitter and Facebook for our latest posts.
Note: This website is made possible through financial relationships with some of the products and services mentioned on this site. We may receive compensation if you shop through links in our content. You do not have to use our links, but you help support CreditDonkey if you do.
Empower Personal Wealth, LLC ("EPW") compensates CREDITDONKEY INC for new leads. CREDITDONKEY INC is not an investment client of Personal Capital Advisors Corporation or Empower Advisory Group, LLC.