Empower vs Mint
Ad Disclosure: This article contains references to products from our partners. We may receive compensation if you apply or shop through links in our content. You help support CreditDonkey by using our links.
(read more)
Empower and Mint are popular money management apps. Read this review to find out how they compare and which one is better for you.

© CreditDonkey
Being a user of both Mint and Empower, I'm here to give a complete, detailed comparison review.
About Empower and Mint
Mint:
Mint was quickly dubbed the "Quicken killer." It was one of the first free budgeting apps. Unlike Quicken, Mint was special in that it instantly synced your accounts so that you can see your finances in real-time from anywhere.
Empower:
Empower offers two services: 1) free money management tools and 2) a paid wealth management service for investors with at least $100k. In this comparison review, we're mainly looking at free personal finance tools.
Quick Takeaway: Which is better Empower or Mint?
Empower
is better for long-term investment tracking and retirement planning.
Mint
is better for budgeting, goal setting, and managing your day-to-day money. Read on to learn which is right for you.
What is your main reason for using a personal finance app?
Key Similarities
Both Empower and Mint allow you to view your financial life in one place. You can link all your financial accounts so you don't have to log in to each individual site.
Both offer these features:

Link to thousands of banks, brokerages, and other financial institutions

Overall picture of finances and net worth

List of all transactions from all accounts

See spending by category

Track income and expenses

Categorize and tag transactions

Bill reminders

Investment tracking and comparisons to market indexes

Add manual assets, such as homes, cars, jewelry, art, etc.

256-bit encryption security

Web platform and mobile app
Key Differences
Here's a quick look at where Mint and Empower differ.
Empower Offers:

Personalized investment advice to meet optimal allocation

Fee analyzer within investments

Retirement planner—can add scenarios to see how they impact retirement

Education planner—estimates cost of college and helps calculate a savings goal
Mint Offers:

Better budgeting tools; Can set budget for each category

Goal creation and progress tracking

Bills include utilities and offline bills

Ability to exclude accounts

Ability to add manual transactions

Free credit score

Customized alerts
Detailed Comparisons Breakdown

© CreditDonkey
Now let's take a more detailed look at Empower vs Mint.
Synchronization & Linking—Tie
Both can link to thousands of financial institutions. It's very rare to find an institution that's not supported. Linking is fast for both. In a couple of cases, they both asked for 2-factor authentication as an extra security measure. Empower had a bit more trouble connecting to one of my accounts.
Mint has more complaints about synch issues. A lot of users say that synching stops working sometimes and you have to re-link the account. Empower is reported to be more reliable.
However, I have found that Mint seems to update transactions faster. Transactions usually show up in Mint right away after making a purchase. Empower can take a day to show up.
How to log in to both Mint and Empower: For both, you need to create an account with your email address and a password. Then link all your financial accounts. After that, you only need to log into the service to see all your accounts in one place.

Budgeting—Winner: Mint
Mint is known for budgeting. You can create a budget by category. Mint will automatically pull info from your accounts and track your spending in each category every month. This allows you to see exactly where you are over or under budget. For example: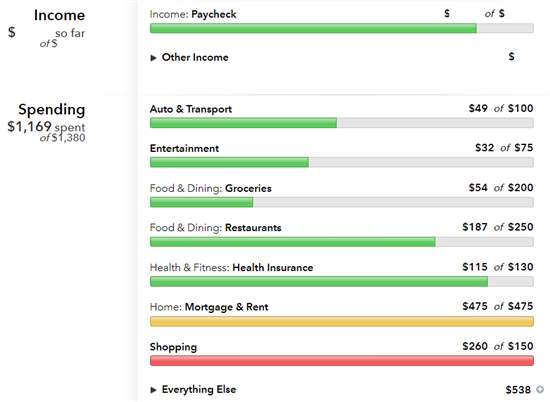 Screenshot of Mint
Mint will also send you notifications when you have gone over budget in a certain category. Getting reminders is helpful so you can adjust your spending habits.
You can also budget expected income and Mint will track your income over the month. It tells you how much you will have left after your expenses and savings goals.
To track offline budgets (like for rent, babysitter, etc.), you have to manually add offline expenses in "Transactions." For example, if you pay your babysitter in cash, you'd add a budget category for "Babysitting & Daycare." Then, as you pay the babysitter, you will add manual transactions and categorize them as "Babysitting & Daycare." This way, Mint will pull the data from your transactions.

In comparison, Empower only offers very simple budgeting tools. You can only set an overall monthly budget. It'll track how much you've spent this month so far, and compare it to your spending last month. You can't assign a budget to each spending category or set other features.
Goal Setting—Winner: Mint
Mint is the clear winner when it comes to goal setting. It allows you to create short-term and long-term goals (such as paying off debt, buying a house, emergency fund, college, etc.).
After you've picked a goal, Mint will help you calculate how much you need to save in order to reach the goal by the target date. You must link an account to each goal in order for Mint to be able to track it. As you save money each month, Mint will update the goals with your progress.
I find this feature a little glitchy sometimes. For example, it doesn't recognize that I've deposited money into the accounts toward the goals, so it still shows $0 this month (above screenshot).
Empower does not have any personal or short-term goal setting abilities. It only offers retirement planning (which we'll cover below).
Debt Payoff—Winner: Mint
Mint offers debt payoff planning as part of the goal setting feature. It helps you create a plan according to your budget.
Start by choosing "Pay off Credit Card Debt" as a new goal. Mint will automatically detect which accounts have debt. You can select the accounts you want to pay off.
Enter how much you can afford to pay each month. Mint will tell you how long it'll take to pay it off and how much you'll pay in interest. You can play around with the slider to see how different amounts will affect payoff.
Empower does not offer any debt payoff planning.
Bill Reminders—Winner: Mint
Empower will only pull up bills for credit cards, loans, and mortgages. But most of us have more monthly financial commitments than that.
Mint gives you a much more complete view of your monthly bills. You can also link utility accounts (like DirecTV, Verizon), and even add offline bills (such as for rent, cleaner, babysitter, etc.). Mint will show you the overall amount of bills due this month and how much cash you have available.
Mint also does a better job of alerting you when a bill is about to be due. As far as I recall, I've never received a bill reminder from Empower.
Neither allows you to pay bills directly from the platform. Mint used to have a bill pay feature, but it's no longer supported (as of June 2018).

Investment Tracking—Winner: Empower
Both combine all your investment accounts to show the overall performance of your portfolios and compare them to market indexes. But Empower is the clear winner.
Empower really shines in investment tracking, as its main business is investment management. It offers free personalized advice to improve your investment strategy.
The investment analysis tools include:

Fee Analyzer. Calculates how much is being lost to fees and the expense ratio within each fund. This way, you can consider switching out funds with high fees.
Investment Checkup Tool. Analyzes your current investment strategy and suggest a target allocation. It also tells you exactly how to rebalance your portfolio to reach the suggested asset allocation.
Read more about Empower's investment tracking tools in our detailed review.
In comparison, Mint is purely an investment aggregator. It merely combines your accounts to show performance. It doesn't provide any advice.
I find that Mint's investment tracking is very glitchy. Half the time, I get an error message saying that it can't find any information, so it's a little useless.
And Mint can't seem to break down your portfolio's asset allocation at all (below).
This area is not Mint's main purpose. If you're serious about investment tracking and improving your strategy, Empower is the only answer.
Retirement Planning—Winner: Empower
Empower has one of the most advanced free retirement planning tools. You set your target retirement age and how much you plan to save per year. Based on your linked retirement accounts, Empower will calculate what your retirement looks like.
Empower's retirement planning features include:

See projected portfolio values at different ages

See projected monthly retirement income

See calculated Social Security distributions

Get recommendations on what you can change to grow your retirement savings

Enter "what if" scenarios (like buying a house, paying for a wedding, traveling), and see how these will impact your retirement
Mint does not offer any real retirement planning abilities, except for basic tracking of a retirement goal.
Credit Monitoring & Alerts—Winner: Mint
An added bonus for Mint is that it gives you free credit score and monitoring from TransUnion.
It also tells you the factors that affect your credit score, such as your on-time payments, credit usage, total accounts, credit inquiries, etc. This information is very helpful so you can monitor how you're doing and improve your credit.
Another plus for Mint is that you can set up customized alerts to stay on top of your finances. Alerts include:

Credit score updates and credit changes

If an account drops below a certain balance

If available credit drops below a certain number

If there's unusual spending in a category

If there's a large purchase above a certain amount

If you're charged a bank fee

Bill reminders
This helps you monitor your accounts in real-time. You know right away if something goes off track and you can take steps to fix it or adjust your budget.
Empower does not have alerts except for the weekly spending, investment, and net worth reports.
Wealth Management Services - Winner: Empower
Only Empower offers wealth management services, so we'll just briefly go over that in this section.
This is an optional service for those with at least $100,000 to invest. Empower offers robo-investing combined with real human management. Much of the tasks are automated, but a committee of advisors and researchers provide guidance.
A financial advisor will take the time to understand your personal situation and financial goals. The advisor will then design a personalized investment strategy for you. The robo-advisor will take care of investing for you and managing your portfolio, so you can be completely hands off. As life events happen, you can talk to your advisor to adjust.
The annual fee starts at 0.89% of your assets under management (and lowers with higher balances).[1] This fee is higher than other robo-advisors, but you will receive more personalized service.
Security—Winner: Empower
Both Empower and Mint take these security measures:

AES-256 encryption

Credentials are store in a separate, inaccessible database

Multi-factor authentication

Extra log-in protection on mobile app

Backend security that keeps employees from viewing users' credentials
The biggest distinction is that Mint uses 128-bit SSL encryption when linking to a financial account, while Empower uses AES-256 encryption. Both are essentially unbreakable, but AES-256, which is the only level of encryption used by the U.S. government, is more complicated to hack.
Empower Pros & Cons
Pros

Investment analysis and personalized recommendations

Robust retirement planner

Reliable synchronization

Better net worth tracker
Cons

Simple budgeting tools

No manual transaction entries

No goal setting

Can't exclude accounts or transactions
Mint Pros & Cons
Pros

Budgeting by category

Goal setting and tracking

More complete bill reminders

Manual transactions

Custom alerts

Free credit report from TransUnion
Cons

Simple and glitchy investment tracking

No retirement planning
Other Alternatives to Empower and Mint
If neither Mint nor Empower seem like a good fit for you, here are some other popular alternatives.
You Need a Budget (YNAB)
YNAB (read review) purely focuses on budgeting. Instead of just tracking your spending, it actually teaches you how to budget and helps you save. There is no investment or retirement planning.

YNAB costs $6.99 per month, so it's best for serious budgeters committed to changing their habits.

EveryDollar
EveryDollar (read review) is the budgeting app created by celebrity money expert Dave Ramsey. It incorporates his signature "7 Baby Steps" to financial success.

The basic version is free and only supports manual entry. For auto account syncing, it costs $129.99/year. It's good if you're not sure where to start your financial journey.
Final Verdict: Which Is Better?
The two platforms excel in different areas.
Mint is more focused on your current financial situation. It's better for day-to-day money management, such as budgeting, debt planning, short-term goal setting, and credit monitoring.
On the other hand, Empower is better for managing your long-term financial goals. It has stronger investment tracking and retirement management tools.
They're both free, so it's worthwhile to have both for different functions.
References
Write to Anna G at feedback@creditdonkey.com. Follow us on Twitter and Facebook for our latest posts.
Note: This website is made possible through financial relationships with some of the products and services mentioned on this site. We may receive compensation if you shop through links in our content. You do not have to use our links, but you help support CreditDonkey if you do.
Empower Personal Wealth, LLC ("EPW") compensates CREDITDONKEY INC for new leads. CREDITDONKEY INC is not an investment client of Personal Capital Advisors Corporation or Empower Advisory Group, LLC.
Compare: