Costco Travel: What You Need to Know to Save Money
---
Costco Travel makes planning a vacation easy, but does it really save you money? See how it compares against other top travel sites.
Let's face it. Traveling is expensive and planning is a hassle.
If you are anything like us, you look high and low for travel deals. And if you are a Costco member, your hunt could be over.
Yes, the same warehouse where you shop for granola bars and toilet paper in bulk offers travel discounts. The idea is that you would save money by bundling together things like flights, hotel, car rentals, and even dining and activities.
Discounts combined with high-quality Costco service, is it the recipe for a fabulous vacation?
And does it really save you money?
In our review of Costco Travel, we will tell you what you can expect from their travel agency. Let's find out just how good the deals are.
Bonus
: Costco Travel is a great way to save money. But did you know, you can travel for cheap with miles and points? Join our
FREE travel course
to learn how to travel the world with points.
What is Costco Travel

© CreditDonkey
Exclusive to Costco members, Costco Travel offers convenient vacation package deals to popular destinations around the world. Many even including dining, activities, and resort credit. Costco is able to offer such good discounts because they use their immense buying power to score deals with hotels, theme parks, cruises, etc.
Note
: Costco Travel is different from other online travel agencies (such as
Orbitz
or Expedia). It does not offer individual flight bookings or a night at a specific hotel. It's all done as part of a vacation package. Airfare can be added to almost all vacation packages and cruises. But you can choose to book your own independently too if you want.
Here's what you can get with Costco Travel:
Vacation packages: You can select pre-packaged vacations to destinations like Hawaii, Florida, Las Vegas, the Caribbean, Mexico, Costa Rica, Europe, South Africa, and Tahiti.

Did you know: The top 5 international destinations visited by Americans are (in order): Mexico, Canada, UK, Dominican Republic, and France.


Theme parks packages: The packages will include things like flight, hotel, and theme park tickets. Disney theme park vacations are popular.
Cruises: Costco offers cruises all over the world on popular lines like Carnival, Celebrity, Disney, Princess, etc.
Rental cars: Costco searches for rentals with Alamo, Avis, Budget, and Enterprise.
Hotels: Costco is partnered with Hyatt and Best Western. Costco members receive a small discount (though we'll see later if it's really true or not)
All pricing for their packages are upfront with all taxes included. So there are no surprise charges when you're ready to pay.
All Costco Travel employees are trained travel professionals. So you get the expertise of both a well-known price negotiator with a well-versed travel agent. They're available to help you plan the trip the way you want.
How Costco Travel get their deals: We all love shopping at Costco because you pay less when you buy in bulk. The same concept applies. Costco has huge buying power and is able to score discounted rates when they buy hotel rooms, cruises, theme park tickets, etc. in bulk (basically, they get a discounted group rate). The savings are then passed on to their members.

How to Get Better Deals with Costco Travel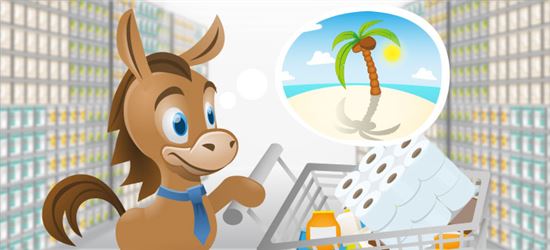 © CreditDonkey
Before we start, here are some more tips on how to use Costco Travel to get the best deals. Feel free to click to jump to the sections.
Can you purchase Costco Travel for someone who is not a Costco member? Yes. If you're a member, you can book a trip for a non-member with your membership. Or, if you're not a member but has a friend who is, you can use their membership to book a trip and pay with your own credit card.

Costco Membership Options
Before we dive into the specifics, keep in mind that you must be a Costco member.
However, you can see the packages and prices as a non-member. So you can browse and if you decide the membership is worth the savings, you can then join and book your trip.
Tip: Costco will refund your membership fee in full at any time if you are dissatisfied. All the more reason to try out Costco for yourself.

There are three membership levels:
Gold Star membership ($60/year): With this basic membership, you don't earn any rewards. But if you can find a good deal on Costco Travel, the $60 could be well worth it.

You can even gift someone you know with an annual membership by buying it online on Costco's website. This could be the perfect present for a friend or family member who likes to travel a few times a year or more.

Executive membership ($120/year): You get 2% cash back on all purchases. You also get more benefits on Costco Travel vacations. For example, some stays offer a $100 food credit or complimentary room upgrades just for Executive members. Sometimes the extra $55 is money well spent.

Note: As an Executive Member, you get 2% cash back on all purchases. Select Costco Travel purchases including vacation packages, cruises, rental cars and theme park and specialty vacations are eligible for the 2% reward. It is also important to know that Executive Member benefits are extended to the primary cardholder only.

Business membership ($60/year): This membership is similar to the Gold Star Membership, except that you must be a business owner. Affiliate cardholders can be added for an extra $60 each per year.

Did you know: If you have a business and are planning to use your Costco Card strictly for business expenses, it might be possible to deduct the cost for membership on your taxes.

Now, let's get into the different offerings and see what you can stand to save.
Is a Costco membership worth it?
This depends on what you buy, but there are a few areas Costco excels over other retailers.
If you buy gas, wine, gift cards, organic products, pet food, and over-the-counter meds, then Costco could save you some serious cash, even with the $60 membership fee.

Vacation Packages

© CreditDonkey
Planning a vacation is often stressful. Costco's vacation packages make it easy by bundling everything together. You don't have to go to different websites and book things individually. It's as close to "1-click and you're done" as you can get.
Vacation packages include flights (optional), hotel stays, transportation (transfers or rental car), and activities. Some vacation packages include specific activities, but most will offer a tour credit.
You can plan a vacation package to the Caribbean, Cook Islands, Costa Rica, Europe, Fiji, Florida, Hawaii, Las Vegas, Mexico and Tahiti - in addition to the theme parks (more on that below).
Tip: Some vacations, such as Disney World packages, do not directly include the airport transfers. However, in this case, Costco provides discount coupons. They send it directly to your email. You then purchase the transfers directly with the transfer company. You still get the Costco discount, but you don't purchase it through Costco. I love how Costco thinks of everything, covering all of the bases for any vacation package.

Included perks: One good thing about Costco Travel is their "Included Extras." Essentially, they are bonuses. The type of bonus differs by vacation type and package. Extras you might see include:
Free breakfast

Resort credit

Spa discounts/credits

Free activities, such as a round of golf

Kids under 12 eat free
And if you're an Executive member, you may get extra benefits on top. Such as a resort credit per day, food and beverage credit, or even Costco cash cards. Try finding those amazing perks elsewhere without wasting countless hours checking every travel site that exists.
It is also possible to get a great deal on a vacation package at Starwood Hotels and Hard Rock Hotels.
Costco Vacations: Price Comparisons
But now, let's take a look if you save more by booking through Costco. At the same time, let's go over how to book on Costco Travel.
Example vacation package: 4 nights in Cancun, Mexico from November 13-17. Departing from Los Angeles (LAX). Two adults.
Then it will come out with a list of properties for you to choose from. You can also see at a glance what kind of extras are included in each property. For the sake of this review, let's choose the first one (the least priciest).
I had also indicated that I wanted to include flights. After you have chosen the property, you will next choose the flight. Here is the included flight that they selected for me:
You can either select this and hit "Continue", or if you don't like this option, there are 149 other flight options to choose from. But they are all pricier.
So after you have selected a flight, next you select the room.
You can see that the Luxury Garden-View Suite is included in the package. If you would like a higher room category or suite, it will cost extra.
Before proceeding to the airport transfer options, a pop up alert comes up:
Costco Travel makes it impossible to miss this important advisory! If you are OK with the terms, click "I Understand" to continue.
If this package comes with airport transfer, it will come up on the next page:
Note you will be transported in a shared vehicle with other travelers each way. If you prefer a private transfer or in a wheelchair accessible van, simply modify your selection accordingly. Note the price will be higher.
And that's it. The last thing to do is go over the booking recap and confirm. So for this sample vacation package, the total is $1,354.26 for 2 people for 4 nights in Cancun, including nonstop round-trip airfare.
Before hitting the "Purchase" button, make sure to check the cancellation policy by clicking "what if I need to cancel". In this case, if you cancel before November 9th, 70% of the total trip amount is refundable.
Click on the Promotion and Included Extras' details under the Hotels section to review on your end and check if there are any additional taxes collected by the hotel upon checkout.
All clickable links in blue on the booking recap page share important details pertaining to your trip. They are there for a reason... so click and read everything!
How much does it cost if we book it ourselves? Let's see:
Flight for 2 from LAX to CUN (same flight as above): $850 on Google Flights

4 nights in Villa del Palmar from Nov. 13-17th: $603 on Kayak

Airport transfer: $40 in shared van to and from hotel.
Total: $1,493
Costco Travel comes out a little cheaper. And also, remember that this package has a $80 resort credit and breakfast.
Let's compare with a couple of other popular online travel agents. Same dates, same hotel.
Expedia: $1,583.76 (does not include airport transfer, breakfast or resort credit)

Travelocity: $1,534.17 (does not include airport transfer, breakfast or resort credit)

Orbitz: $1,564.85 (includes breakfast, but does not include airport transfer or resort credit)

Hotels.com: $1,674.25 (includes breakfast, but does not include airport transfer or resort credit)
In general, we find that Costco Vacation Packages tend to be a decent deal. In most cases, it does save you a bit of money. The extras they provide makes for even better value. Plus, the lack of hassle with booking things separately yourself could be worth a lot to some people. And you also have the full support of Costco travel agents to help plan the trip.
Did you know
: The average airfare per traveler for an international trip was
$1,237
, and the average spending while overseas per travelers was $1,487
I love booking travel on the Internet because of the access to reviews. Reading honest opinions from others often helps travelers make choices.
Costco's "Buyer's Choice" packages are top picks chosen by previous other buyers for the outstanding value and selection. Buyers rate the packages based on the special touches received throughout the vacation. These are outside of the standard Costco savings.
Take, for example, a 5-night vacation package to Maui at the Royal Lahaina Resort (from $800/person). It includes more than the hotel and rental car (flight not included in base price). Costco members also receive:
$500 food and beverage credit

$100 beach activities credit

Complimentary daily self-parking
Just note that the Buyer's Choice prices you see won't include airfare. If you choose to include one, of course the price could go way up.
Costco's Weekly Hot Deals offer even more savings than their regular packages. You have a limited time to book the deals, but travel is often good for a while. Featured deals change every week, so feel free to bookmark the link and check the updated page from time to time.
For example, a limited-time package to Cancun is good for travel dates through December 23, 2017. In this particular package, you receive a resort credit based on your length of stay. You get a $500 resort credit for a 3-night stay, and all the way up to $2,500 credit for 12 nights or more. The credit is good towards spa service, excursions, dining, or the golf course. And on top of that, you get a Costco Cash Card.
Costco Travel offers amazing vacation packages and cruises for $499 and under per person. If you are on a tight budget and have someone to travel with, these deals are too good to pass up. Most offers include a special perk such as a resort or shipboard credit, Costco Cash Card, or huge savings that can't be found elsewhere. Limited dates apply, especially for cruise sailings, so act fast before the particular deal sells out.
Believe it or not, there is a deal available for a 4-night stay at a four-star beachfront resort in Riviera Nayarit, near Cancun, Mexico, starting at $269 per person (based on double occupancy). Travel must take place between August 13, 2017 to December 20, 2017. In addition to accommodation, the package includes round-trip transportation to / from the hotel and all taxes and fees. Airfare is at an additional cost. In this particular package, you receive a $100 resort credit per room, per stay, 4 nights or more. If you book a 1-bedroom suite or higher, you are entitled to receive a $150-$250 resort credit per room, per stay, 4 nights or more.
When using example travel dates, October 4-8, 2017, the total cost for the 4-night stay for 2 people is $532.19 on Costco Travel.
Nothing beats the convenience of an all-inclusive getaway.
Costco can be your go-to provider for your next all-inclusive vacation or cruise. Right now there is a special deal for a 4-night stay at Occidental Nuevo Vallarta in Nayarit, Mexico from $359 per person and includes all meals, kid's club, daily activities and nightly entertainment, airport transfers, and hotel taxes and gratuities. Travel must take place between 8/13/17 - 10/31/17.
If you are an Executive Member, keep an eye out for the black Executive Membership card, which indicates a special benefit.
Here is an example:
Theme Park Packages
Costco offers vacation packages to Disney World, Disneyland, Universal Orlando and Lion World. Costco makes it easy to book the flights, hotel, and theme park tickets all as a package. We all know how stressful it is when you're trying to do it all separately for your family.
Pricing wise, let's see how it compares:
Example Disney World package: 6-night stay at the Hilton Orlando Buena Vista Palace from August 2-8; 5-day Magic Your Way Tickets with Park Hopper option; transport to the theme parks. 2 adults and 2 children.
The total Costco Travel price is $2,451.57 for a family of 4 for 6 nights and 5 days of park tickets. (Note that to keep this simple, we didn't include flights.)
Let's see what it would cost if you were to book it yourself:
6 nights at Hilton Orlando Buena Vista Palace from Aug. 2-8: $878 on Expedia

5-day Disneyworld Magic Your Way Ticket with Park Hopper for 4 people (3 ages 10+; 1 age 3-9): $1,760
Total: $2,638. And this doesn't even include transport from the hotel to the parks daily.
You can really stand to save a few hundred bucks with Costco Travel's theme park packages. In about all cases we've checked, Costco comes out cheaper. And the extra benefits it offers makes the value even better. Plus, it makes it a lot more stress free to plan your family vacation.
Did you know: Domestically, the 5 most visited cities by Americans are (in order): Las Vegas, New York City, Orlando, San Diego, and Los Angeles

Costco also offers incredible options for travelers wishing to take a Guided Vacation (i.e. in a group with an expert guide).
Adventures by Disney - Experience an once-in-a-lifetime vacation on one of the 25 guided group itineraries across six continents and receive a Costco Cash Card valued at up to $2,000. Destinations include: Iceland, Costa Rica, Italy, Peru, Greece, European river cruises, Spain, Germany, Norway, Scotland and more. You will love the immersive activities that only Disney can bring to life. It is important to know that airfare is not included in the vacation package.
Trafalgar - This highly-rated tour operator has been offering life-changing adventures for over 70 years. Choose from 230 Trafalgar trips in Europe, North, Central and South America, Australia, New Zealand and Asia. All options include the best Costco Member value, plus a Costco Cash Card (with every Executive Member booking).
Affordable Cruises
Booking a cruise is even less complicated.
Everything comes with the package. You just need to choose stateroom type, deck number, room location, and bed configuration. If you shop cruise prices between various travel agents and Costco, you may find similar prices. Cruise lines typically restrict the discounts they allow on the cruises.
Costco Travel offers cruises with almost all major cruise lines including: Azamara, Carnival, Celebrity, Crystal, Cunard, Disney, Holland America, Norwegian, Princess, Regent, Royal Caribbean, Uniworld and Viking. Costco does not sell small or boutique cruise lines such as Oceania, Silversea and Windstar.
Currently, you can plan a cruise with Costco to the following destinations:
Alaska

Antarctica

Asia, Africa & The Middle East

Bermuda

Caribbean & The Bahamas

Europe & The Mediterranean

Hawaii

Mexico & Central America

North America

South America

South Pacific

World Cruise
Cruises to Baja Mexico, the Bahamas, and the Rhine River are the most popular. There are even transatlantic cruises for those not keen on flying.
Costco also makes it easy to find cruises from your preferred departure port including: Seattle, Vancouver, Fort Lauderdale, Miami, Port Canaveral, Tampa, Galveston, Los Angeles, New York and San Diego.
Did you know
: The most popular destinations for cruises for
North Americans
are: the Carribeans, Bahamas, and Alaska. Just 4 cruise firms - Carnival, Royal Caribbean, Norweigian, and Disney - account for almost all cruises taken. And 3 departure ports - Miami, Fort Lauderdale, and Port Canaveral - account for over 50% of departure points.
Let's look at one example:
Example cruise package: 11-night Caribbean cruise on Celebrity Cruises. Departing from Miami on September 25, 2017. Inside stateroom for two adults. Prices also reflect a slight discount for being a California resident.
Costco Travel: $2,123, includes a $120 Costco Cash card

Vacations to Go: $2,127 , includes a $125 onboard credit

Cruise Direct: $2,123, includes 10% off excursions and $50 on-board credit

Celebrity Cruises: $2,131, no included extras
Costco's prices come out on par with other cruise sites. Where Costco could stand out, however, are the extras they provide. They offer onboard credits and/or Costco Cash Cards on almost every cruise. If you wind up not using the entire onboard credit amount, you can get a refund on your credit card by going to the cruise ship's reception desk and making the request. Note that the Costco Cash Cards tend to come in the mail after completion of your cruise and can be used at Costco's warehouses or online. Don't forget to figure these bonuses into your comparisons if you shop around.
You can also add an airline ticket. Do some comparison to see if Costco's airline prices are lower than purchasing them elsewhere.
Kirkland Signature Options
Costco also offers Kirkland Signature vacation and cruise options you will not find anywhere else. With these options, you usually receive a Costco Cash Card as well as other exclusive benefits. For example, on a Winery Cruise from Sydney, Costco offers:
A hosted reception on board

A private, four-course luncheon with wine tasting

Two additional private wine tastings

Two private behind-the-scenes shipboard tours
Add to this the included beverage package and you receive many benefits you would not receive elsewhere.
Shore Excursions
: Already booked your cruise? Why not make it extra special by pre-booking a shore excursion. Costco Travel makes it easy to find excursions beyond the typical activities offered through the cruise line. Whether you want to book an excursion for one port or all ports, Costco Travel makes it easy.
Costco Car Rental
Costco finds pricing from Alamo, Avis, Budget, and Enterprise. And as an added bonus, you get one additional driver for free (which usually costs about $13/day).
Besides the additional driver, Costco may also give you extras like coupon savings and possible upgrades (especially with Enterprise). Also, there are no cancellation fees, which is great if you happen to find a better deal elsewhere.
Watch out
: Costco car rental does not include any kind of insurance coverage. If you do book through them, make sure you use a credit card that gives you primary
car rental coverage
. This means that even without the agency's optional insurance, you can still be covered for the damage, theft, or loss of eligible vehicle rentals.
Let's see if you stand to save with Costco Car Rentals. For the scenarios, we have picked the cheapest pricing and did not select any insurance coverage.
Example car rental #1: A 7-day car rental in Los Angeles; pick up and drop off near LAX
Costco Travel: $207

Expedia: $158

Kayak: $134

Priceline: $158
Example car rental #2: A 5-day car rental in Miami; pick up and drop off near MIA
Costco Travel: $165

Expedia: $126

Kayak: $117

Priceline: $134
Surprisingly, Costco's rates are the highest. Kayak is the clear winner when it comes to car rentals. Costco doesn't search for as many rental companies as other online travel agencies, so often, the pricing is not the best.
But if you do need an additional driver, then Costco's car rental is worth considering since it won't cost extra.
Discounted Hotel Rates
For the time being, Costco is not accepting new room-only reservations at this time. Stay tuned for their new hotel program coming soon!
Costco is partnered with Hyatt and Best Western. Members receive 10% off (or more) at these hotels. Let's see if this is true:
We are looking at the Andaz Wall Street in NYC (part of Hyatt), for the night of Friday Sept 8, 2017. The cost is $275 for Costco members, while Advanced Purchase is $290. It seems like that Costco members do save a few bucks.
However, at the same time, the AAA discount rate is the same as the Costco rate.
This is also true for Best Western. And sometimes, Costco pricing isn't even the lowest.
As a whole, the hotel partners don't save you too much money, especially if you already have AAA. It's worth looking at just for comparison shopping, but this isn't where you'll find most value.
Notification of Issues
Costco has the reputation of providing quality in everything they offer. They stay apprised of all issues occurring at the hotels and other amenities they offer. If they know of any inconvenience, such as hotel maintenance, they provide a pop-up during the booking process. By clicking "I understand," you acknowledge the slight inconvenience you may experience. If the issue is serious, Costco may even change your reservations for you. You can expect even better accommodations or benefits in cases like this.
Before Using Costco Travel To Book Your Next Getaway
Not all travel brands and destinations are available in the Costco inventory.
If you book a vacation package, for example, and you need to cancel or change the dates, it can be a hassle. That's why the highly reputable Travel Guard travel insurance thats offered through the website is attractive. After booking your trip, all you have to do is purchase the coverage you want on Travel Guard's website.
Costco Travel might not be the best choice for travelers who are members of hotel rewards programs as you won't be able to accrue points or credit. The same goes for airline frequent flyer programs.
You won't have an exclusive agent to work with and their customer help line (for travelers on the ground) is only available between 5 or 6 am until 9 pm Pacific Time. This means that, In all likelihood, a different representative will assist you every time. So if you never traveled abroad or been on a cruise before, this might be an important factor to consider. Although, Costco Travel does have this handy page for beginner cruisers.
Why We Choose Costco Travel
Overall, Costco Travel offers good benefits especially in the cruise and vacation packages department. Even in cases where I could find the cost of the vacation slightly lower, I choose Costco Travel. I love the benefits they offer. I also trust their guarantee.
Booking a vacation to a place I have never gone is nerve wracking. What if I choose a bad hotel or miss an incredible activity? Booking with Costco Travel leaves those worries behind. I feel they leave no stone unturned with their program. They stand behind their quality choices and offer great options. Not to mention transparent upfront pricing with no surprise costs. I always go on my vacations knowing exactly what to expect.
Don't forget about the added bonus of resort perks, Costco Cash cards, and specific member benefits. There is something satisfactory about using a $250 onboard credit on a cruise. I also love receiving a room upgrade that I could not otherwise afford. These perks make Costco Travel worth it for me. And best of all - it's about as stress free as you can get. That fact alone could be priceless to some people.
Write to Kim P at feedback@creditdonkey.com. Follow us on Twitter and Facebook for our latest posts.
Note: This website is made possible through financial relationships with some of the products and services mentioned on this site. We may receive compensation if you shop through links in our content. You do not have to use our links, but you help support CreditDonkey if you do.
---