Ad Disclosure: This article contains references to products from our partners. We may receive compensation if you apply or shop through links in our content. You help support CreditDonkey by using our links.
(read more)
Save money on your next vacation. These top travel websites offer deep discounts and worthwhile deals on airfare, hotel rooms, and car rentals.
Dinners. Shows. Bottomless margaritas.
That's where you want to be spending your money when you venture out into the world. Not airfare and a bed.
Fortunately, discount travel sites can get you some pretty incredible deals. This list will help you figure out which one will score you the best deal on your next trip.
What to Look for on Discount Travel Sites
Most travel sites come in one of two types: online travel agencies (OTAs), and travel metasearch engines, which show you prices from around the web.
They tend to have a lot in common, but there are some unique features that can help you decide which site to use when planning your next trip. Here are some noteworthy things to look out for:
Filters
Each travel site will offer different filters, some more specific and complex than others. These help you zero in on your exact needs, and can lead you to great deals you may not have found otherwise.
Flexible Date & Location Tools
Sites like KAYAK, Momondo, and Skyscanner are great for travelers with flexible schedules. Their detailed calendars allow you to quickly scan flight prices for different days and locations.
Hidden Fees
Not all sites will be upfront with the final price. Watch for hidden fees and always look at the fine print, which tells you if your fare excludes extras like taxes, booking fees, and baggage fees.
Rewards Programs
Sites like Expedia, Orbitz, and Hotels.com offer rewards programs that give you points every time you book through them. Below, we discuss more about these and the benefits of each.
Mobile App Discounts
Some sites add extra features and discounts when you book through their mobile app instead of your desktop.
Top Discount Travel Sites
When booking your travel, we highly recommend searching through a few different sites to compare.
You may think prices will be similar across the board, but this isn't always the case. Below, we look at the top discount travel websites and their best features.
BOOKING.COM: Best for Hotels
Booking.com is one of the most popular travel websites in the world and features lodging options from hotels, resorts, luxury glamping tents, and everything in between.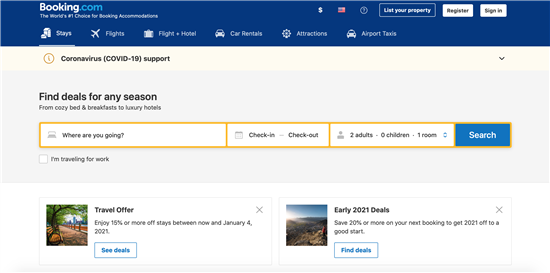 Screenshot of Booking.com
Booking.com also offers flight and hotel packages via lastminute.com, along with car rentals.
In general, we recommend it for booking accommodations. Booking.com is easy to use, offers helpful search filters and clear descriptions, and provides 24/7 customer service.
Why We Like Booking.com

Price Match Guarantee
If you find the exact same accommodation on the same dates elsewhere for a lower price, Booking.com will refund you the difference up to 24 hours before your check-in date.
Genius Loyalty Program
Their multi-tiered loyalty program offers perks like a 10% - 15% discount on select properties, free breakfast, and/or a free room upgrade at select properties.
Verified Reviews
Reviews are only open to customers who have booked through the site, so you can get a more accurate view of what sort of accommodation you'll be getting.
KAYAK: Best for Airfare
KAYAK is a travel metasearch engine that rounds up the best deals from other online travel agencies, discount travel sites, and sometimes the airlines, hotels, and car rental agencies themselves.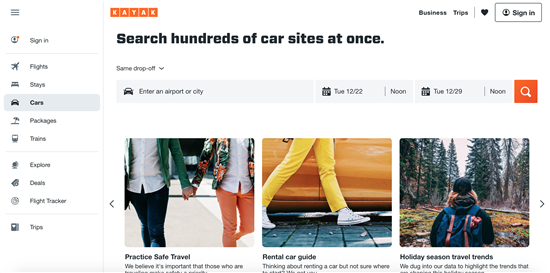 Screenshot of Kayak
Some deals can be booked directly on KAYAK, but most will lead you to another site, which is noted under the listing price.
KAYAK is one of the most comprehensive aggregators in the travel world. Its filters and features allow you to seek out the best deals.
Why We Like KAYAK

Flexible Dates
When searching flights, you can plug in up to three days before and after your desired dates. The results will show up as a grid with the cheapest price for each combination of days.
Price Graph
When typing in your trip dates, you'll see a monthly grid that tells you which dates are cheapest (highlighted in green) and which are most expensive (in red).
Hacker Fares
Combine multiple one-way bookings for cheaper total airfare. Be sure to look closely at the final booking—you may have to re-check-in or switch airlines along the way.
Price Alerts
KAYAK will send you emails if there are any price changes for your preferred dates and destination.
PRICELINE: Best "Opaque" Booking Deals
Priceline is one of the original discount OTAs that offers hotels, flights, cruises, rental cars, and travel packages.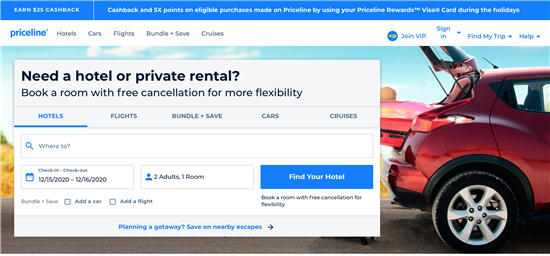 Screenshot of Priceline
They tout savings of up to $625 when booking a hotel and flight together on their site.
Some of their best features are their "opaque" Express Deals and Pricebreakers programs, which only reveal the booking details after you've booked—all for a deep discount.
Do watch out for extra resort fees (especially if you're booking in Las Vegas), which are not included in the overall
Priceline
fare.
Why We Like Priceline

Express Deals
You'll find out which hotel (or airline) you've booked only after the booking is completed. Here's a sneaky way to figure out which hotel you'll be getting beforehand.
Pricebreakers
Similar to Express Deals, this discount gamble shows you most of the hotel details after you book. Doing this can score you 4-star hotels for up to 60% off.
Tonight-Only Deals
Available on their mobile app, this feature offers discounts of up to 35% when booking a same-day stay at a 3 or 4-star hotel (with a maximum 4-night stay).
Best Price Guarantee
Like Booking.com, Priceline will refund you the difference if you find the same booking on a different site for less.
MOMONDO: Best for Car Rentals
Similar to KAYAK, Momondo works as a travel search engine that rounds up the best real-time prices on flights, hotels, and car rentals from other sites.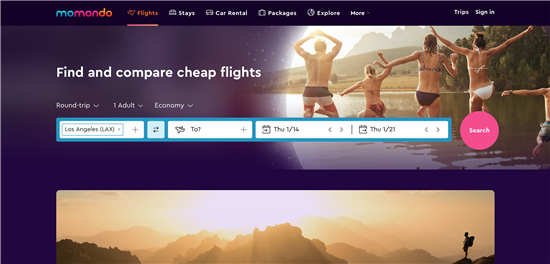 Screenshot of momondo
No booking is done directly on Momondo, but this site is especially great for trip planning. Their interactive graphs, maps, and flexible dates make it easier to find the best deals.
Why We Like Momondo

Anywhere & Anytime Search
Type in your departure city and date range, then select "Anywhere" as your destination. Momondo then shows you the cheapest prices in cities as far as you're willing to go.
Price Graphs
When looking up airfare, Momondo's graphs show you estimated prices for both your outbound and return flights over a 20-day period.
Mix & Match
Like KAYAK's Hacker Fares, this lets you book two one-way flights instead of round-trip, or a separate flight and hotel for the best deal.
EXPEDIA: Best Rewards Program
This long-standing discount travel site falls under the Expedia Group, along with Orbitz, Hotels.com, Hotwire, and Travelocity.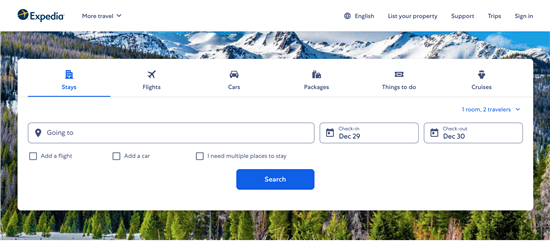 Screenshot of Expedia
On Expedia, you can search for flights, hotels, cars, cruises, vacation rentals, activities, and full vacation packages.
One of the best reasons to choose Expedia is their rewards program. Their Expedia Rewards credit cards also offer even greater deals for regular users.
Be aware that Expedia does often charge a booking fee, which will show up on your trip summary page before finalizing your purchase.

Why We Like Expedia

Expedia Rewards & Hotel Price Guarantee
Automatically earn rewards whenever you book. Earn perks like 10% hotel discount, price matching, and more.
Expedia Rewards Credit Cards
If Expedia is your go-to travel site, and you use it often, getting one of their Citi credit cards will help you rack up a number of points.
In-App Deals
Use Expedia's mobile app to unlock more deals, including up to 30% on hotels. You'll also earn double to your points when booking through the app.
ORBITZ: Best Cash Back Deals
Orbitz is comparable to Expedia and allows you to book hotels, flights, vacation packages, cars, vacation rentals, cruises, and activities.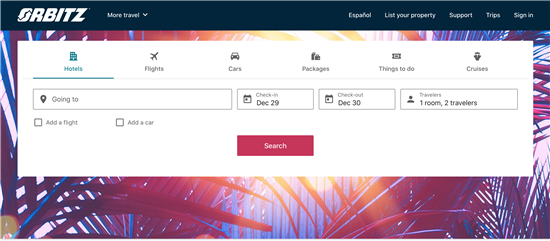 Screenshot of Orbitz
While Expedia may have a stronger rewards program overall, Orbitz focuses its Orbucks rewards exclusively on hotels.
They also offer a 24-hour guarantee, meaning they'll refund you the difference if you find a lower price elsewhere.
Like Expedia, be on the watch for booking fees before making your final purchase.
Why We Like Orbitz

Orbitz Rewards
Earn 1% on flights and packages, 3% on hotels, and 5% on hotels booked on the Orbitz app. Book more often to access member-only prices and free room upgrades.
Coupon and Promo Codes
Choose from travel coupons, hotel promo codes, and last-minute travel deals that offer discounts on select hotels, flights, and packages.
Mobile-Exclusive Deals
You can save up to 40% on hotels when booking through the Orbitz mobile app.
HOTELS.COM: Best for Vacation Rentals
As its name suggests, Hotels.com is the top site for booking hotels around the world, including boutique and independent chains, hostels, apartments, vacation homes, country retreats, and resorts.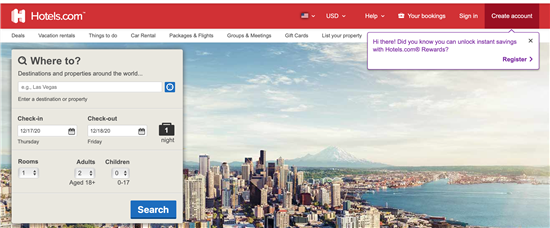 Screenshot of Hotels.com
Most of their bookings offer free cancellation and the option to pay online or at the hotel.
Hotels.com is best for their detailed descriptions, quality photos, and reliable customer reviews. Each listing specifies amenities, services, bed options, and extras like Wi-Fi and free breakfast.
Their "At a Glance" section will give you a rundown of important details (like if the Wi-Fi has been rated slow by fellow reviewers).

Why We Like Hotels.com

Rewards Program
Earn 1 night for every 10 nights you book on the site. More bookings get you extras like priority customer service, free breakfasts and airport transfers, and price guarantees.
Secret Prices
Hotels.com members will see discounted prices on select hotels. Secret Prices can also be matched and applied to bookings you've already made.
Group Hotel Rates & Meeting Spaces
Find group hotel rates via filters like group type (Bachelorette Party, Convention, Wedding, etc.), ideal star rating, and nightly budget. You can even book as a group and pay the hotel separately.
TRAVELZOO: Best for Cruises
TravelZoo has long been a premier site for vacation packages. They offer great bundle deals with detailed listings that include "Why We Love It" commentary from their editors.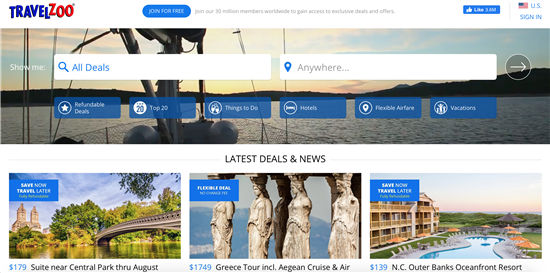 Screenshot of Travelzoo
You can also find deals on hotels, flights, cruises, live performances and events, restaurants, spas, and activities. Sign up for their email list to get prime access to exclusive deals.
Why We Like TravelZoo

100% Refundable Deals
The site has a dedicated section for packages that can be fully refundable or rescheduled without a penalty.
Save Now, Travel Later
Some of TravelZoo's deals let you purchase the package before you even schedule the trip. This allows you to snatch up a deal and then figure out the dates later.
Top 20 Deals
Every week, TravelZoo searches over 2,000 companies worldwide to compile their top 20 deals. Just enter your email to get full access to the list.
HOTWIRE: Best Flight + Hotel Bundles
Part of the Expedia Group, Hotwire is similar to Expedia and Orbitz, but with a slightly simpler layout.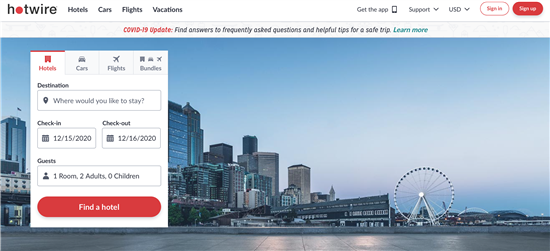 Screenshot of Hotwire
Their best feature is their flight and hotel trip bundles, which often add up to good savings.
They also offer opaque "Hot Rate" flights and hotels, which offer deeply discounted airfare and hotels, if you're willing to not see all the details.
Keep in mind that these Hot Rate bookings are final and cannot be refunded or changed.

Why We Like Hotwire

Hot Rate Flights
Score a deep discount, as long as you're open with your trip plans. You won't see the exact times, number of stops, or airline until your purchase is complete.
Hot Rate Hotels
"Find 4-star hotels at 2-star prices," as they put it, with discounts up to 60% off. They'll give you three hotel choices based on location, amenities, and hotel class, but won't reveal your hotel until after booking.
Low Price Guarantee
If you find a lower rate for your exact booking within 24 hours, they'll pay the difference.
TRIPADVISOR: Best for Researching Your Trip
Tripadvisor has been a leader in customer reviews for everything travel-related. Search for hotels, restaurants, activities, flights, vacation rentals, and more with comprehensive rankings, reviews, and tips from fellow travelers.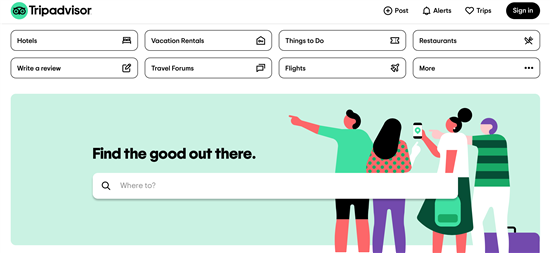 Screenshot of Tripadvisor
Tripadvisor works as both an aggregator (mostly for flights and hotels) and booking agency (mostly for packages and activities).
Tripadvisor also owns Viator, a good resource for booking tours and activities in cities around the world.
Why We Like Tripadvisor

TripCollective Customer Reviews & Photos
One of the most robust and invaluable review sections on the web.TripCollective is their contributor program that awards reviewers points and badges with every review.
Lowest-Priced Dates on Hotels
Tripadvisor lists prices from sites like Booking.com, Hotels.com, Agoda, and official hotel sites to get you the best deal. They also provide a calendar with the lowest-priced dates on any given month.
Travel Forums
Got a travel-related question? You'll likely find an answer on Tripadvisor's many forums. These forums can be great for hard-to-find info.
Other Sites to Check Out
Skyscanner
Skyscanner is a simple travel search engine that's best for travelers with a flexible schedule.
While you can't book flights directly through their site, they will link you directly to the airline or OTA with the best deal. Check out their Daily Flight Deals for more deep discounts.
Travelocity
Travelocity offers a Price Match Guarantee and a free 24-hour cancellation policy. They have seasonal coupons and promo codes, as well as exclusive offers on the Travelocity mobile app.
Google Flights & Hotels
Metasearch engine Google Flights is a good place to start when looking for the best airfare.
Their date grids and price graphs show prices for all departure and return dates. You can also click "Explore Destinations" to see pricing for flights around the world. Google Hotel Search works similarly, compiling the best prices for hotels from a variety of OTAs.
airfarewatchdog
Airfarewatchdog rounds up the day's best flight deals from your departure city.
They also show top hotel deals at your preferred destination—though these are mostly linked to Booking.com. Meanwhile, their Weekender feature compiles cheap flights to popular destinations that can help you figure out a future weekend trip.
Hopper
Hopper is a mobile-only app that predicts prices on flights and hotels up to one year in advance. Their color-coded calendar shows you the cheapest and most expensive dates to travel.
You can also set up a price alert for specific dates or an entire month. They claim their predictions can help you save up to 40% on a flight or hotel.
Jetsetter
Jetsetter is owned by Tripadvisor, but takes a more editorial approach to their travel offerings. Check their "Flash Sales" for vacation package deals, especially if you want luxury on a budget.
Tips for Booking on Discount Travel Sites
Use a Travel Rewards Credit Card
If you use a travel rewards credit card to pay for your booking, you'll get a deal from the travel site and earn points on your card. On top of that, you may accrue extra rewards when booking with sites like Expedia, Orbitz, or Hotels.com.
Check Shopping Portals
Shopping portals like Rakuten (formerly Ebates) are free to use and can earn you cashback, like up to 4% cashback on Priceline and 5% cashback on Travelocity.
Download Mobile Apps for Special Deals
Several of these sites have corresponding mobile apps, many of which offer exclusive discounts and deals for app-only booking.
Verify Your Bookings
When purchasing through any third-party site, it's best to verify your reservation with the airline and/or hotel after booking.
Customer service ratings are also worth a look, but keep in mind that your own experience may differ. Here's where popular discount travel sites stand according to reviews from TrustPilot, ConsumerAffairs, and the BBB.
What the Experts Say
CreditDonkey asked a panel of industry experts to answer readers' most pressing questions. Here's what they said:
Bottom Line
When planning a trip, it's best to check out a variety of these sites to help you narrow down your best options for airfare, accommodation, vacation bundles, and other trip extras.
Take advantage of their filters, special features (like flexible date and location tools), exclusive deals, and loyalty rewards programs to organize your ideal trip while getting the most bang for your buck.

References
Write to Stephanie G at feedback@creditdonkey.com. Follow us on Twitter and Facebook for our latest posts.
Note: This website is made possible through financial relationships with some of the products and services mentioned on this site. We may receive compensation if you shop through links in our content. You do not have to use our links, but you help support CreditDonkey if you do.