Ad Disclosure: This article contains references to products from our partners. We may receive compensation if you apply or shop through links in our content. You help support CreditDonkey by using our links.
(read more)
How much money do you need to become a real estate investor? Not a lot. Find out how beginners can invest in crowdfunding real estate with just $10.
Investing in real estate used to be only possible for the wealthy. But not anymore.
With real estate crowdfunding, anyone can own tiny pieces of property with just a little bit of cash. And the best part is that you don't even have to deal with buying or managing.
Read on for the best real estate crowdfunding platforms. Whether you have just $10 to invest or a lot, there's something that will fit your bill.
Here are the best real estate crowdfunding platforms
:
How much do you want to invest in real estate?
What Is Real Estate Crowdfunding?

© CreditDonkey
Real estate crowdfunding is when you pool your funds with other investors to purchase real estate.
This allows you to invest in real estate with just a little bit of money. You then own a tiny portion of large multi-million real estate projects.
Developers use the crowdfunded money to build their projects. And investors (that's you) earn returns through rental income and/or when the property appreciates in value.
Real estate crowdfunding is a great way to make passive income. The platform professionals take care of vetting, acquiring, building, and managing the properties. And you just collect the returns.
Best Real Estate Crowdfunding Platforms

© CreditDonkey
There are tons of real estate crowdfunding platforms. Each one is different and has their unique features. How do you pick the right one?
We have come up with the top real estate crowdfunding platforms. Read on.
Fundrise: For Small Investors
Fundrise has absolutely no income or net worth requirement. All you need is just $10 to open an account. This makes Fundrise one of the best platforms for any investor.
Minimum Deposit:

$10

Wealth Requirements:

None

Annual Fee: 1% management fee
Investment Types:

Commercial, single family, industrial
Pros:

Just $10 to start
Strong past performance
Passive investing

Cons:

Illiquid investment
Unknown future returns
Your money is automatically invested in a curated, diversified portfolio of real estate projects across the US. They may include new construction or existing buildings with existing tenants.
If you have at least $5,000 to invest, you can choose between income or growth portfolios. So you can tailor your investment to your goals.
Income portfolios focus more on properties that generate cash flow (like through rent), so you'll see more dividends. Growth portfolios focus on properties that are expected to appreciate in value for higher long-term returns.
The investment term is 5 years, but Fundrise does have an option to redeem shares early for a small penalty. So there is some liquidity in case you need to withdraw.
Choose Fundrise if you:

Want passive income (dividends are paid quarterly)

Want a little more personalization to your goals

Want some degree of liquidity

No wealth or income requirements
Get a diversified portfolio of real estate projects across the US
Low fees to maximize long-term returns
EquityMultiple: Best for Accredited Investors
Accredited investors definitely have a wider playground when choosing real estate crowdfunding platforms. You even get the opportunity to pick the properties you want to invest in.
Minimum Deposit:

Typically between $10,000 – $30,000, but can be as low as $5,000

Wealth Requirements:

Must be accredited investor

Annual Fee: 0.5%-1.5% depending on the investment; plus an annual administrative fee usually between $30-$70
Investment Types:

Direct, fund, and tax-deferred commercial real estate investments
Pros:

Variety of investment options
Quality real estate deals
Transparent expected returns

Cons:

Large minimum investment
Accredited investors only
Can't resell securities
EquityMultiple sets itself apart by the vast amount of due diligence they perform before accepting an investment. EquityMultiple looks for:
Lenders with significant experience

Commercial properties in thriving markets with cash flow

Short-term loans with high interest rates

Preferred equity investments with strong current return

Value-add projects with aggressive business plans
EquityMultiple is transparent with the expected returns. Investments typically last between 6 months and 7 years. The typical investment requires $10,000 minimum, though there are options for $5,000. You can peruse the investment options free of charge first.
In all equity deals, EquityMultiple doesn't get paid until all investors recoup their initial capital contribution. Then EquityMultiple takes 10% of the remaining profits.
Choose EquityMultiple if you:

Want to cherry-pick your investment properties

Want strong cash flow investments

Are an accredited investor and have a lot to invest
What is an accredited investor?
An accredited investor must have an annual income of at least $200,000, OR a net worth of at least $1 million (excluding value of your primary residence).
If you are married and applying for an investment account together, your combined income must be at least $300,000 per year.

RealtyMogul: Best for Long-Term Investors
RealtyMogul offers opportunities to both accredited and non-accredited investors.
Minimum Deposit: $5,000 for REITs; $25,000 for individual deals
Wealth Requirements:

REIT offerings open to everyone; Accredited investors have access to private placements

Annual Fee: 1% - 1.5%
Investment Types:

Commercial, multifamily, office, industrial
Pros:

More options for accredited investors
REITs available for everyone

Cons:

$5,000 minimum
Illiquid investment
Complex fees
For non-accredited investors, you can only invest in RealtyMogul's 2 REIT options (one designed for income and one designed for growth), starting with $5,000 minimum.[1]
For accredited investors, you can invest in individual properties. RealtyMogul focuses on quality over quantity, so the selection of projects is smaller. The typical investment is between 3 to 7 years, with a minimum of $25k.
It focuses on commercial and industrial real estate that can quickly provide cash flow to investors. It avoids ground-up projects or raw land and only works with real estate partners with a proven track record of success.
Choose RealtyMogul if you:

Want to invest in REITs with high historical returns

Want to pick your properties (for accredited investors)

Want consistent passive income

Invest in individual properties
$25,000 minimum investment
Available to accredited investors only
Groundfloor: Best for Short-Term Investors
Usually, real estate is an illiquid investment. You're in it for at least several years until a project is complete. But Groundfloor offers real estate investing opportunities for just 6-18 months, so you're not locked in for years.
Minimum Deposit:

$10

Wealth Requirements:

None

Annual Fee:

$0

Investment Types:

Short-term real estate loans
Pros:

No investor fees
High historical returns
$10 minimum

Cons:

Risk of default
Debt investments only (no equity)
Groundfloor is like peer-to-peer lending for real estate projects. You invest in loans to borrowers who need funding for flix-and-flip housing projects. You earn returns as the borrowers pay back the loan with interest.
You can pick which loans you want to invest in. The interest rates go from 5% to 15% (with the higher meaning more risky). You can build your own diversified portfolio to minimize risk of default. The average return is 10%.
Groundfloor is available to everyone in all 50 states. There is no income or accreditation requirement.
Choose Groundfloor if you:

Want to see quick returns on your investment

Want monthly interest payments

Are okay with more risk for more potential rewards

Short-term real estate investments lasting just 6-18 months
Open to non-accredited investors
No investor fees
Other Real Estate Crowdfunding Platforms to Consider

© CreditDonkey
Peer Street
You can invest starting with $1,000. PeerStreet doesn't purchase the real estate itself. Instead, it operates as the middleman between the loan originator and the investors (you).

You can invest the full loan amount or crowdfund the loan with other investors. You'll receive interest payments around the 1st and 15th of the month for the life of the loan.

RealCrowd
For accredited investors only, RealCrowd lets you invest directly with real estate professionals. It has a strict vetting process. Every real estate company must have at least 10 years of principal-level experience and at least $50 million in transactional history as principals.

You can select your own projects based on your goals. RealCrowd is a good option for investors who want to do the legwork themselves.
How Do You Make Money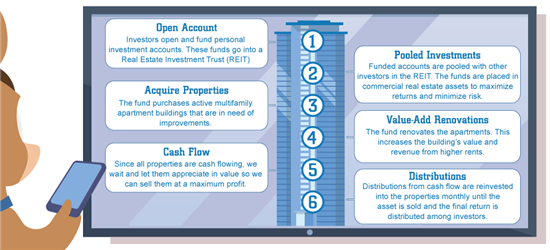 © CreditDonkey
Typically, investors are paid in 2 ways:
Dividends: This is the income generated from the properties, either through rent or interest on mortgage.

Dividends are a way to make passive income. Take note if the platform distributes dividends monthly or quarterly.

Appreciation in value of your shares: This is when the property goes up in value over time. You're paid at the end of the investment when the property is sold. This can be a few years.
There are two main types of crowdfunding projects:
Equity: This is when you own part of the property. Returns are made through profits, such as rental income. This is higher risk, but there is potential for higher returns.

Debt: This is when you act as a lender. Returns are made through lending money at a fixed interest rate. This is lower risk, but your returns are fixed.
History of Real Estate Crowdfunding
Real estate crowdfunding was first made possible in 2012 with the Jumpstart Our Business Startups (JOBS) Act. Essentially, this allowed private startups to raise capital by crowdfunding, and anyone to invest in them.
For the first time, individual investors can invest in private assets (such as real estate) with very little capital. Since then, real estate crowdfunding platforms have exploded.
Real estate crowdfunding is still in its early stages. There's a lot of potential for growth. However, the future is uncertain, as already some popular platforms have shut down.
Should You Invest in Real Estate Crowdfunding?
Real estate crowdfunding is a great opportunity to invest in real estate with even just a little bit of money. It's also great if you want a completely passive investment.
But there are also risks involved with it. It's important to know the risks as well before you go into it.
Unknown future. Real estate crowdfunding platforms are still pretty new. They have risks that established REITs don't have, such as no prior operating history or established financing sources.

There's also no proven long-term performance history yet. In recent years, there are already crowdfunding platforms that have closed their doors.

No control. You don't get to pick your investments. You're basically trusting the platform managers to make good decisions and manage them properly. It's hard to completely understand the projects you're invested in.
Limited liquidity. Since these investments aren't traded on the public market, you can't just sell anytime you want. They're typically long term investments of at least 5 years.

You'll be penalized if you try to sell early. Some platforms may have early redemption plans during certain periods where you can sell.

Risk of losing capital. Many investments don't have a guaranteed return. If a project goes down, you may even lose your initial capital.
But there are a lot of benefits as well. Read on.
Real estate crowdfunding vs REIT
:
A REIT (Real Estate Investment Trust) is a corporation that invests in real estate. So when you invest in a REIT, you're technically investing in a corporation. There is usually little transparency and you just trust the company to make smart decisions. There are publicly traded REITs where you can buy and sell shares on the stock market anytime you want.
Real estate crowdfunding allows you to invest directly into real estate projects. The platforms are more transparent about exactly what projects your funds are invested in. However, there is less liquidity as the shares are not publicly traded.

Reasons to Use a Real Estate Crowdfunding Platform

© CreditDonkey
Invest with as little as $10. Because you pool your funds with other investors, you don't need hundreds of thousands of dollars to invest in real estate. You can invest in real estate that would normally not be accessible.
Know your risk upfront. Many crowdfunding platforms provide details of the investment upfront, including level of risk and expected returns.
Portfolio diversification. Investing in real estate gives you a little more diversification on top of stocks and bonds. This can help provide a hedge against the ups and downs of the market.
Invest in many projects. Instead of investing in just one real estate project, your funds can be invested into many projects across the U.S. This also spreads the risk in case one area experiences a downturn.
Tax advantage. Real estate investments are usually made through taxable accounts, but an investor can now use a self-directed IRA account to invest in real estate.
What to Look for in a Real Estate Crowdfunding Opportunity

© CreditDonkey
Income or accreditation requirements. This is the biggest limiting factor in what sites and investment options you have.
Minimum investment amount. Can you meet the platform's minimum investment requirement?
Time horizon of investments. Generally, real estate investment is illiquid. If you don't want your funds to be tied up for years, look for platforms with shorter project timelines or share redemption programs.
Investment options. Are you looking for equity or debt investments? Are you looking to make more passive income now or more future appreciation? Each has its own risk, fees, and potential profits. Choose the platform that offers what you need for your goals.
A thorough evaluation process. Find out how well the company vets each developer and their approval criteria.
A transparent process. You should have access to all the details of the investments to make an informed decision.
Regardless of what investors decide to do, they have to educate themselves as to how that type of investing works and do the due diligence on the platforms and on the deals they are planning to invest in.
In terms of the amount, everyone is different when it comes to a definition of 'small.' You can stick to a minimum required investment.
Alina Trigub,
SAMO Financial
What the Experts Say
As part of our series on investing and real estate, CreditDonkey asked an industry expert to answer one of our readers' most pressing questions. Here's what they said:
Bottom Line
Real estate crowdfunding gives everyday investors the opportunity to invest in real estate without needing large sums of money or any experience in real estate investing.
It's a great way to diversify your portfolio and invest in assets not correlated to the stock market. Even with just a little bit of money, you can become a more well-rounded investor.
Make sure you do your own due diligence when choosing the right platform for you, as each option has its pros and cons that make them right for some investors, but not the best option for others. Knowing the fees, risks, and
regulations
upfront will help you make the decision best suited for you.
References
Write to Kim P at feedback@creditdonkey.com. Follow us on Twitter and Facebook for our latest posts.
Note: This website is made possible through financial relationships with some of the products and services mentioned on this site. We may receive compensation if you shop through links in our content. You do not have to use our links, but you help support CreditDonkey if you do.
Read Next: