---
Money orders are safer than personal checks. But how much does it cost? Find out where to go and how to pay.

© CreditDonkey
A money order is a type of prepaid payment where both the sender and receiver must sign to receive the cash. This makes for a more secure way to send money than a regular check. But it will cost you.
Find out how much and the cheapest places to get one in our guide.
How Do Money Orders Work?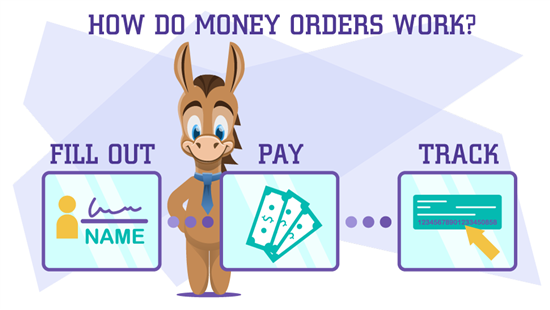 © CreditDonkey
Money orders allow you to send funds securely. Since you pay the sum upfront, you won't need to share any banking information, like account or routing numbers.
You can purchase money orders at locations such as Walmart, 7-Eleven, or MoneyGram. Here's how:

Fill out the name of the recipient. You will also need to add the amount of money you want to send. Make sure to fill out your money order carefully.
Pay the total amount of money you want to send as well as the fees (more on this below). Most money orders may have a $1,000 maximum. If you want to send more, you will need to pay for multiple money orders.
Your receipt will come with a serial number, which will be your primary way to track the money order. You need to keep the receipt until you know for sure that the money order has been cashed and received. Otherwise, you may need that information to report the money order lost or stolen.
How to cash a money order?
If you receive a money order, you can take it to a bank, issuer, or credit union and cash it just like a check.

HOW MUCH IS A MONEY ORDER?
The cost of a money order will vary based on where you buy it and the amount of money you want to send. In general, you can expect to pay anywhere from less than $1 to $5. Banks and credit unions often charge the most: anywhere from $5 to $15.
Here's what you'll pay at some of the largest locations:

7-Eleven: Anywhere from $1 to $5, depending on amount

Kroger: $0.65

MoneyGram: $0.70

Safeway: $0.59

Santander Bank: $5.00

TD Bank: $5.00

USPS: $1.25 to $1.65

USPS International: $4.50

Walmart: $0.70

Western Union: $1.00

Chase Bank: Free for account holders, otherwise $5
As of August 2019, The U.S. Post Service no longer issues or accepts money orders between the U.S. and Canada. You will pay up to $1.65 for a domestic money order and up to $4.50 for an international money order.

Can You Get a Money Order Online?
Sending a money order online is now possible through some platforms. For example, Payko is a company that offers them.
However, the fees can be significantly more than getting a money order in person. You will also need to use a PayPal account to pay.
Online money orders can cost up to $5 plus a fee of 5.49% of the value of your money order. If you need to send that money order via mail, you can expect to pay even more for shipping—up to $15!
Costs for online money orders vary, so it's important to shop around.
How much is a money order at CVS?
You can purchase a money order up to $500 for $1.50.

How to Pay for a Money Order
How you can pay for a money order will vary by location, so always double-check before you plan to purchase one.
Generally, most places (except for Western Union and 7-Eleven) do not accept credit cards as a payment method for money orders.
Here are the payment methods accepted by each store:

Walmart: Cash, debit card
Amscot: Cash, debit card
U.S. Post Office: Cash, debit card, travelers check
Western Union: Cash, debit card, travelers check, credit card
Kroger: Cash, debit card
7-Eleven: Cash, debit card, credit card
MoneyGram: Cash, debit card
Safeway: Cash, debit card
Moneytree: Cash, debit card
Although Safeway uses Western Union to process money orders, they do not accept credit cards to purchase money orders like a regular Western Union store would.
HOW DO I CANCEL A MONEY ORDER
If you lose your money order, it's not the end of the world. Follow these easy steps to cancel your money order and get your money back.

Contact the issuer or the place where you bought your money order. If that's a postal order, go to your local post office. If you bought it at a bank, return to the bank.
Give the issuer your details. Check your money order receipt for the purchase date, amount, and location. In addition, you may be asked to provide a brief description of how the money order was lost.
Attach a copy of the receipt. This is important as proof of purchase.
Submit a cancellation request form. Most of the time, you will have to pay a fee associated with the cancellation form request.
If the money order has been cashed already, there is a chance you may not be able to get your cash back. If you believe your money order was cashed fraudulently, ask for a copy of the cashed money order and report it to local authorities.
Protect yourself against fraud by writing your name in the "payee" field as soon as you get your money order.

MONEY ORDER Vs CASHIER'S CHECK
A money order and cashier's check are similar:

Both are secure, guaranteed forms of payment that are accepted almost anywhere.
Neither includes personal information such as a checking account number. This is perfect for people looking for privacy and protection if they don't know the recipient well.
Both can be canceled, though it may take a while to get your money back. (If a money order has been cashed, you may not be able to get your funds back.)
However, money orders and cashier's checks have significant differences:

Money orders are usually cheaper—often around $1. A cashier's check will cost you $10 or more. But cashier's checks can have higher limits.
Money orders can be purchased at a variety of locations, including grocery stores, convenience stores, and banks. On the other hand, cashier's checks can only be purchased at banks or credit unions.
When you cash a cashier's check, you'll get the first $5,000 within one business day. A money order, on the other hand, is treated differently. Hold times may be longer, and it may take days for you to get your cash.
Getting your money back is quicker and easier with a money order, especially with a receipt. You'll wait up to 30 days for a resolution while cashier's checks have a longer delay.
A cashier's check is guaranteed by your bank. A money order, on the other hand, will be guaranteed by the place where it is issued. It is perceived to be less secure for this reason.
A money order from USPS will process much faster. In most cases, you can get your money the same day.

WHEN SHOULD YOU USE A MONEY ORDER?
Sometimes using cash or a personal check will put you at risk. A money order can be a more effective and safe way to transfer money in these situations. For example, sending money to family members abroad is much more secure through a money order.
Here are some examples of when you may need to use a money order:

Sending private payments: A money order does not have your bank account information, unlike other forms of payment.
If you don't have a checking account: With a money order, you pay in cash.
Low on funds: Because the money order is prepaid, you can be sure it will not bounce.
When mailing money: A money order can easily be sent in the mail (for a fee.)
Sending money internationally: Money orders are one of the most efficient ways to send money abroad. However, not all money orders work abroad. Double-check with the issuer to make sure the money order will be accepted.
PROS AND CONS
Before getting a money order, consider the pros and cons.
Pros

Secure payment method: There is less fraud with money orders. Receiving a money order requires photo identification and a signature.
Can be used worldwide: Unlike other methods of payment, you can access money orders at many locations around the world. You can also cash the money order at any financial institution.
Mail safe: You can send money orders through the mail with no problem. Even if the money order does not reach its destination, you can always report the money order as lost with the issuing company. Because the money order is insured, you can get a replacement.
No personal information: Money orders do not contain personal information, such as your bank account number.
Cons

Slow transit time: If you're sending a money order, it may take some time to arrive at its final destination. After all, they are normally sent through the mail.
Possibilities of loss: A money order can be lost in the mail, like any other mail item. That means more hassle and delays in the money reaching its destination.
Stop payment fees: A stop payment fee is a small fee to stop a money order for any reason. In some cases, the stop payment fee can cost more than the money order itself.
Fraud: Money orders can be fraudulent. Use caution when you get a money order from someone you don't know.
Wide variety of prices: If you don't shop around for prices, you could end up paying up to $20 for a money order—when some money orders cost $1 or less.
BOTTOM LINE
Money orders are a secure, inexpensive way to send money. They don't involve sharing any personal information. However, they are subject to fees and maximum amount limits. Shop around to find the best deal before choosing.
Write to Samantha Tatro at feedback@creditdonkey.com. Follow us on Twitter and Facebook for our latest posts.
Subscribe to CreditDonkey
Get updates on the latest deals and keep up with the best money moves.