Ad Disclosure: This article contains references to products from our partners. We may receive compensation if you apply or shop through links in our content. You help support CreditDonkey by using our links.
(read more)
Investors new to crypto have no doubt heard of Robinhood and Coinbase. But which is better for crypto trading? Read on to learn the pros and cons of each.
Coinbase and Robinhood are two popular platforms that offer easy crypto trading for new investors.
But the comparison isn't apples-to-apples.
Learn More
Visit Site

SPECIAL OFFER
Earn $5 in bitcoin on your first trade on Coinbase - Learn More

OFFER
Get a Free Stock (worth between $5 and $200) - Learn More

Benefits and Features

Stock Trading

No

$0

Options Trading

No

$0

Annual Fee

None

None

Cryptocurrency Trading

$0

Minimum Deposit

$2

$0

Mutual Fund Trading

No

Cryptocurrencies Supported

200+

AAVE, AVAX, BTC, BCH, LINK, COMP, DOGE, ETH, ETC, LTC, SHIB, XLM, XTZ, UNI, USDC

Fiat Currencies Supported

USD, GBP, EUR

USD

Digital Wallet

Yes

No

Transaction Fee
Greater of Minimum Flat Fees or Variable Fees (1.49%+) by Location and Payment Method.
Minimum Flat Fees:


< $10: $0.99
$10.01 - $25: $1.49
$25.01 - $50: $1.99
$50.01 - $200: $2.99

No

Copy Trading

No

No

Limit Orders

No

Yes

Crypto Loans

Invitation only

No

Bank Account Purchase Fee

1.49%

No

Debit Card Purchase Fee

3.99%

No

Banking

No

Mobile App

Yes

Yes

ACH Transfer Fee

No

No

Wire Transfer Fee

$10 ($25 outgoing)

No

Crypto Conversion Fee

up to 2%

No

Anonymity

No

No

Biometric Login

Yes

TouchID or FaceID

Cold Storage

Yes

Yes

Maximum Trading Amount

Unlimited

No

Two-Factor Authentication

SMS or Google Authenticator

Yes

Withdrawal Limit

$50,000 / day

$50,000 per business day

Learn More
Visit Site

Blank fields may indicate the information is not available, not applicable, or not known to CreditDonkey. Please visit the product website for details.

Coinbase: Pricing information from published website as of 04/13/2021.

Robinhood: Pricing information from published websites as of 04/18/2020.
When choosing where to start investing in crypto, it's important to consider a number of factors, like fees, features, security, privacy, and more.
Find out how Coinbase and Robinhood stack up in all those departments in our detailed review below.
What are Coinbase and Robinhood?
Coinbase
Coinbase is a San Francisco-based cryptocurrency exchange founded in 2012. Available in over 100 countries, they started off by allowing traders to buy and sell Bitcoin through bank transfers.
Screenshot of Coinbase
Their business has grown a lot since then, and now they support over 250 cryptocurrencies on their beginner-friendly app.
In the crypto space, they're known for having relatively high fees, which can be mitigated by using the more expert-oriented Coinbase Pro. Users can buy, sell, and trade cryptocurrencies, track the market, and manage their portfolios through a desktop site and a mobile app.
Coinbase makes their money through fees charged on user transactions.
Robinhood
Robinhood is a commission-free trading platform founded in 2013 and currently headquartered in Menlo Park, California.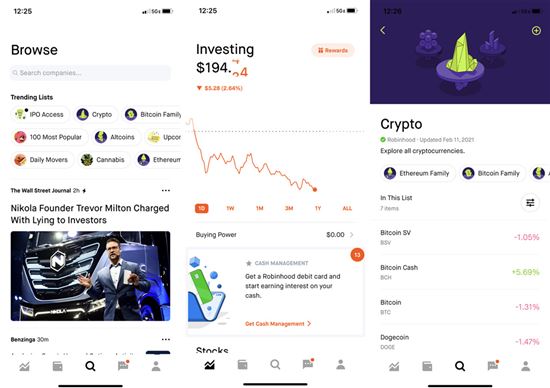 Screenshot of Robinhood
Their primary business is offering commission-free trading of stocks and exchange-traded funds (ETFs) through an easy-to-use app. They offer stocks listed on the NASDAQ and New York Stock Exchange, as well as some popular stocks from international exchanges.
Robinhood's Crypto service launched in 2018 and offered trading for Bitcoin and Ethereum. They now offer 15 cryptocurrencies and altcoins.
Robinhood makes much of their money from "rebates from market makers and trading venues," according to their site. This means they receive payment for directing user orders to market makers who then execute the trades.
They also generate income from Robinhood Gold subscriptions, lending margin securities, interest charged on uninvested cash, and interchange fees related to their Robinhood debit card.
Pros and Cons
Want a quick takeaway? Review the below pros and cons to decide which platform to sign up for.
Coinbase Pros and Cons
Beginner-friendly
Wide range of currencies
Widely available
High-level security
Choose Coinbase if: Your ultimate priority is trading cryptocurrency; you don't mind paying higher fees for added features and crypto data
Download: App Store, Google Play
Robinhood Pros and Cons
Beginner-friendly
Commission-free
High-level security
Trade stocks, ETFs, and options

U.S. only
Small selection of cryptocurrencies
Can't withdraw crypto
Choose Robinhood if: You're a frequent trader who wants to save on fees; are interested in (or already are) trading stocks, ETFs, and options and want to manage your crypto holdings and stocks in one place; you're interested in only a few coins
Download: App Store, Google Play
What Cryptocurrencies Do They Support?
Coinbase
Coinbase currently supports over 250 cryptocurrencies to buy and sell in the U.S., and the list is constantly growing including:

BTC, ETH, UNI, LTC, LINK, USDC, FIL, WBTC, EOS, AAVE, MKR, ATOM, XTZ, COMP, DAI, ZEC, ENJ, SNX, GRT, YFI, BAT, SUSHI, UMA, ZRX, BNT, OMG, CGLD, ANKR, REN, 1INCH, CRV, KNC, LRC, STORJ, OGN, BAL, REP, SKL, NKN, CVC, BAND, NMR, NU, FORTH, OXT, DNT
Robinhood
In addition to a wide range of stocks and ETFs, Robinhood currently supports the trade of 15 cryptocurrencies for U.S. citizens.

ETC, ETH, BSV, BCH, BTC, DOGE, LTC, COMP, SHIB, AVAX, LINK, XLM, UNI, USDC, AAVE
Where are They Available?
Coinbase
Coinbase is available in over 100 countries, but not every country gets the same services.
| Region | Buy, Sell and Convert | Buy and Convert |
| --- | --- | --- |
| North America | The United States, Canada | Mexico |
| Europe | Andorra, Austria, Belgium, Bulgaria, Croatia, Cyprus, Czech Republic, Denmark, Estonia Finland, France, Gibraltar, Greece, Guernsey, Hungary, Iceland, Ireland, Isle of Man, Italy, Jersey, Latvia, Lichtenstein, Lithuania, Luxembourg, Malta, Monaco, Norway, Poland, Portugal, Romania, San Marino, Slovakia, Slovenia, Spain, Sweden, Switzerland, United Kingdom | N/A |
| Oceania | Australia | N/A |
| South America | N/A | Chile |
| Asia | N/A | Singapore |
All other supported countries offer conversion services only. Find the list on Coinbase's supported countries page.
Robinhood
Robinhood is currently only usable to citizens of the United States. Users can trade crypto in every US state and Washington, D.C., except for Hawaii and Nevada.
Features
Let's take a deeper look at what Coinbase and Robinhood allow users to do, and how they differ.
Cryptocurrency Exchange
If you're considering both Robinhood and Coinbase, you may be most interested in crypto trading. Here's how they compare:
Coinbase
Coinbase's exchange is, of course, dedicated exclusively to cryptocurrency. Through it, users are able to perform a number of transactions:

Buy crypto using fiat currency

Sell crypto for fiat currency

Convert one crypto to another

Send crypto to an external wallet

Receive crypto from an external wallet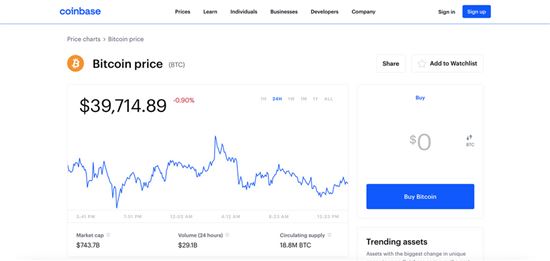 Screenshot of Coinbase
Many of these transactions will incur fees, explained in detail below.
The exchange also provides users with useful data including recent news, market stats, historic prices, investment advice, a summary of each cryptocurrency, and the whitepaper that was published at the currency's inception.
All in all, it's a great place for those looking to learn about cryptocurrency as they get started trading it.
Fund your Coinbase account via ACH bank transfer or wire transfer. You can also make credit and debit card purchases.
Robinhood
Robinhood's crypto exchange and stock exchange are accessible through the same app.
Their available cryptocurrencies are easy to find among their popular lists—just look for the one called "Crypto."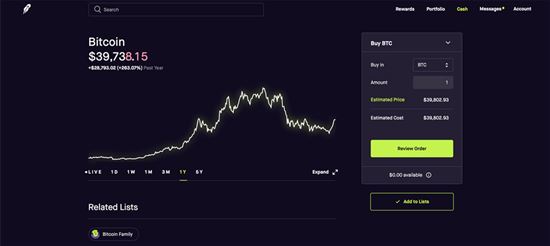 Screenshot of Robinhood
Robinhood's stock listings are every bit as detailed as Coinbase's crypto ones, with market stats, analyst ratings, company information, and more. However, Robinhood's crypto listings offer much less, limited to only price charts and relevant news.
Robinhood supports options trading in addition to stocks, ETFs, and crypto.
You can fund your Robinhood account via a linked bank account or debit card, but not a credit card.
One Important Note about Robinhood: If you're buying cryptocurrency through Robinhood, you don't actually have the ability to withdraw your coins—or even know your wallet address. Robinhood allows you to buy and sell cryptocurrency, but not transfer it off the platform. Many users consider this a fault in their exchange and hope they change in the future.
Premium Subscriptions + Extras
For enthusiastic traders, both Robinhood and Coinbase have their own premium trading services. Review the cost and features below.
Robinhood Gold
This is Robinhood's premium margin account.
Normal Robinhood account holders cannot trade on margin using borrowed money. However, for a $5/month fee, Robinhood Gold members gain access to margin trading up to 2x, Morningstar reports, Level II market data from Nasdaq, and larger instant deposit limits, depending on account balance.
Coinbase Pro
Coinbase Pro is a separate app from Coinbase, geared toward more experienced investors.

Screenshot of Coinbase
It's free to use, and has a different—significantly cheaper—fee structure than the normal Coinbase app. The only caveat is that it's not nearly as user-friendly.
Coinbase Pro offers more advanced market data and expert features like limit orders, which Coinbase does not. It may be intimidating to new users.
Coinbase Borrow
Coinbase also has a loan program that allows users to borrow against the value of their holdings. However, it is currently invite-only.
What Fees Do They Charge?
Fees are an important factor in determining what exchange to use. Here we'll look at Coinbase, Coinbase Pro, and Robinhood.
Coinbase users pay higher fees for an easy-to-use interface.
Deposit Fees:[1]

From 1.49% - 3.99% (Varies by country and payment method)

ACH Transfers are free

Wire Transfers are $10
Withdrawal Fees: [2]

From $0.00 - $25, or as high as 2% (Varies by country and withdrawal method)

ACH Transfers are Free

Wire Transfers are $25 outgoing

Credit Transaction Fees are 2%
Trading and Transaction Fees:

From 0.5% - 4.5% (Varies by payment method, cryptocurrency type, and transaction size

Spread is 0.50%

Buy/Sell Transaction Fees are tiered from $0.99 to 1.49%

Bank Account Purchase Fees are 1.49%

Wallet Purchase Fees are 1.49%

Debit Card Purchase Fees are 3.99%

Crypto Conversion Fees are 2%
Coinbase Pro
Coinbase's premium service is relatively inexpensive, and geared toward experts:
Deposit Fees:

From $0.00 - $10 (Varies by country and payment method)

ACH Transfers are free

Wire Transfers are $10
Withdrawal Fees:

From $0.00 - $25 (Varies by country and withdrawal method)

ACH Transfers are free

Wire Transfers are $25 outgoing
Trading and Transaction Fees:

0.5% (Varies by payment method, cryptocurrency type, and transaction size)

Buy/Sell Transaction Fee is 0.50%

Bank Account Purchases are free

Wallet Purchases are free
Robinhood
Robinhood is known as a commission-free exchange, but there are some fees you should know about.
They don't charge fees for account maintenance or inactivity.
There are no fees for bank transfers, incoming account transfers, ACH, wire, or stop payments.
They do charge:[3]

$100 account transfer fee (Outgoing)

$20 domestic overnight mail

$50 international overnight mail

$2 per month for paper statements

$5 per month for Robinhood Gold
Stock sell orders are subject to SEC and FINRA fees:[4]

SEC: $22.90 per $1,000,000 of principal (rounded up to the nearest penny)[5]

FINRA Trading Activity Fee: $0.000130 per share (rounded up to the nearest penny and up to $6.49)[6]
Robinhood uses limit orders to eliminate the bid/ask spread on cryptocurrency trades. However, that also means that orders are not guaranteed to execute unless the coin reaches your desired buy or sell price.
Security
Coinbase offers several security features to keep your assets safe:

Insurance: Independent insurance for coins lost to cybersecurity breaches or employee theft, up to $250,000; FDIC Insurance for USD balances up to $250,000 through custodial accounts
Cold Storage: 97% of user are stored funds offline
Two-Factor Authentication: Using SMS or Google Authenticator
Biometric Login: Adds another layer of security and convenience
Address Allowlisting: Choose which wallet addresses you allow withdrawals to, and which you don't
Robinhood's security features include the following:

Insurance[7]


SIPC Insurance protects securities customers of its members up to $500,000 ($250,000 for claims for cash)

"Excess of SIPC" coverage through underwriters at Lloyd's of London provides up to $100 million of coverage; up to $1.5 million for cash, $10 million for securities per customer

Cryptocurrency crime insurance provided by underwriters at Lloyd's of London



100% Reimbursement for Unauthorized Activity: Cover 100% of direct losses due to unauthorized account activity including cash, securities, and cryptocurrency, as long as it is not the fault of the user
Two-Factor Authentication: Using SMS or App
Hashed Passwords: Account password hashed using industry-standard BCrypt hashing algorithm
Encryption: Sensitive information is encrypted before storage
Biometric Login: Using TouchID or FaceID
Transport Layer Security (TLS) protocol: Used to communicate with servers
Has Coinbase or Robinhood ever been hacked?
To date, Coinbase has never been hacked. Robinhood experienced a data breach in October 2020 that affected 2,000 user accounts. Hackers accessed customer account information, and were able to control trades and access account funds. Other users have lost fund through hacks or breaches targeting their accounts specifically.
Ease of Use
Coinbase is well known for being easy to use—in fact, it's their main selling point for many new to cryptocurrency trading. Whether using their proprietary app or their desktop site, it's easy to get started trading in minutes.
And for those looking for guidance, Coinbase provides that too. They offer guides and short courses for those looking to expand their crypto knowledge, with the opportunity to earn crypto for taking them.
Broadly, Robinhood is just as easy to use as Coinbase, and in fact their apps look strikingly similar—uncluttered and user-friendly. Robinhood's crypto pages aren't as extensive as Coinbase's, but if all you're looking to do is trade, it couldn't be easier.
Customer Support
Coinbase offers a wide knowledge base for troubleshooting.
They offer live phone support and you can also contact them through their website at help.coinbase.com, or through the "Contact Us" button at the bottom of the page.
Robinhood's Help Center will help users answer general and frequently asked questions.
You can contact them directly when signed in, or through their email at support@robinhood.com. They also offer 24/7 live phone support.
Bottom Line
Ultimately, if you're seriously interested in trading cryptocurrency, Coinbase has a lot more to offer than Robinhood.
Their range of currencies is much greater, they're available all over the world, and they provide more resources for those looking to get into crypto investing.
Though Coinbase is more expensive, it can provide a useful training ground before graduating to a more advanced exchange like Coinbase Pro.
Robinhood is an option worth considering if you're already using it to trade stocks, options, and ETFs and you want to add some popular cryptocurrencies to your investment portfolio.
However, it's important to remember that cryptocurrency was designed for more than just investing—that is, to be spent like any other currency. Unlike most exchanges, with Robinhood you won't be able to take it off the platform.
References
Jeremy Harshman is a creative assistant at CreditDonkey, a crypto comparison and reviews website. Write to Jeremy Harshman at jeremy.harshman@creditdonkey.com. Follow us on Twitter and Facebook for our latest posts.
Note: This website is made possible through financial relationships with some of the products and services mentioned on this site. We may receive compensation if you shop through links in our content. You do not have to use our links, but you help support CreditDonkey if you do.
Compare: