23 Reasons Why You Should Invest in Stocks
Ad Disclosure: This article contains references to products from our partners. We may receive compensation if you apply or shop through links in our content. You help support CreditDonkey by using our links.
(read more)
Despite the economy's ups and downs, the stock market has consistently proven to be a good place to invest your disposable cash and save for your future (as long as you can withstand the ups and downs and plan for the long term). The popularity of online brokerages attests to the demand for stock accessibility in an increasingly DIY society.
But the stock market can be risky if you don't know what you're doing, so you might need a little push before taking the plunge. Whether you want to take on DIY investing or lean on a financial advisor, we'll lay out the reasons you should consider investing in stocks.
Why Invest

© CreditDonkey
Your savings won't do much if you leave them in a low interest bearing account. Without taking advantage of the market, saving for lofty goals becomes hard, if not impossible, unless you are already rich. These long-term goals often include:
Buying a house

Saving for retirement

Saving for your children's college education
Even if investing seems too complicated at first, you're not out of luck. Automatic investment apps such as Acorn App are great options for beginners.
Why Stocks
You don't have to suddenly become a CNBC addict or an expert on certain companies to invest in the stock market. If you have a 401(k) or you've had a 529 plan (an education savings plan), you have already taken part in America's proven way for getting the best long-term growth out of your hard-earned cash.
Here are some reasons why you'll want to consider stocks:
Best Potential for Growth: Yes, the market has had its up and downs (especially in recent memory), but over time, you are poised to get more by investing in stocks than you would with corporate bonds, commodities, or treasury notes. From a historic standpoint, stocks have provided nearly 10% over the long term while U.S. Treasuries have given back just around 5%.
Asset Allocation: The key to combatting the volatility of stocks is to control as much as you can by diversifying where you put your money. You may still want to have some bond holdings and other less risky options like a money market account, but you definitely don't want to put all your money in any one place.
Advantage of Time: The key to all this is thinking "long term." If you're nearing retirement age, you need to pull back on the riskier investment options. But if you have time on your side, you can likely withstand the riskier investments and ride the ups and downs that are inevitable. The hard truth of investing is that you can't get big returns without taking risks.
Need more than history being on your side to get you comfortable with investing? Read on for our 23 reasons to take the leap into the stock market.
What is the Best Stock Broker?
1. IT'S NOT 2006
Yes, we know the market crashed in 2007. And if you'd invested all your hard-earned money back in 2006, you would have surely been singing the blues a year later. But times have changed and the economy is back on an upswing.
2. IT'S NOT 2009 ANYMORE, EITHER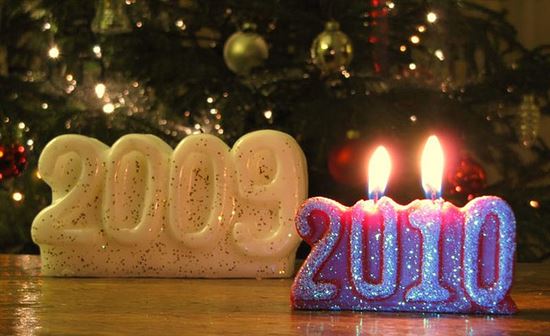 2009 becomes 2010: Happy New Year! © Optical illusion (CC BY 2.0) via Flickr
After the Dow hit a 12-year low in March of 2009, stocks began to rebound. While the market was by no means "healthy" then, great bargains could still be found. If you held stocks for just a couple of years, you definitely found yourself making some money. Just ask Mitch Tuchmana, a retirement expert who reported that 2013 was a standout year for stocks.
3. RIGHT NOW, YOU'RE EARNING JUST .05% INTEREST ON YOUR SAVINGS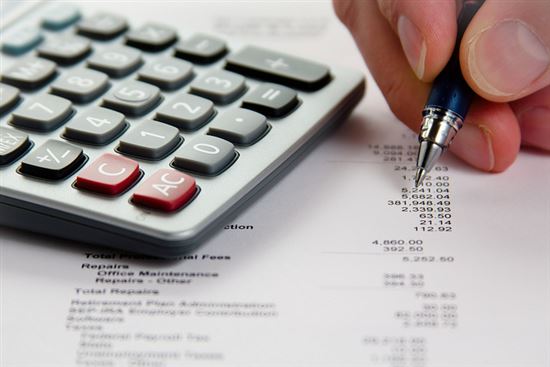 Analyzing Financial Data © Dave Dugdale (CC BY-SA 2.0) via Flickr
At that rate, if you have $10,000 in your savings account for a year, you'll end up with just $5 in earned interest. That will barely buy you a Frappuccino at Starbucks. You're better off putting some of that money to work in the market.
Have debt? Pay it off before you start saving and investing in the stock market. Read this article on why it's better to pay off debt first.

4. IT'S GOOD FOR THE LONG-TERM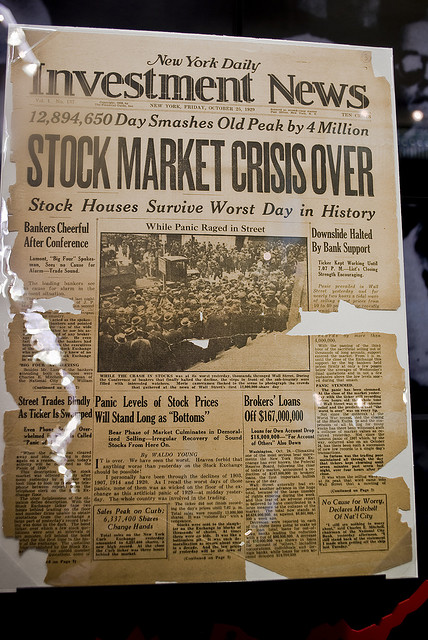 Stock Market Crisis Over © Wagner T. Cassimiro "Aranha" (CC BY 2.0) via Flickr
Yes, the stock market can be risky, but if you're not looking for a get-rich-quick scheme and instead invest wisely over time, you will see your money grow in leaps and bounds. Even after a bear market, stocks will become bullish again. Be patient.
5. YOU WANT TO FEEL LIKE AN ADULT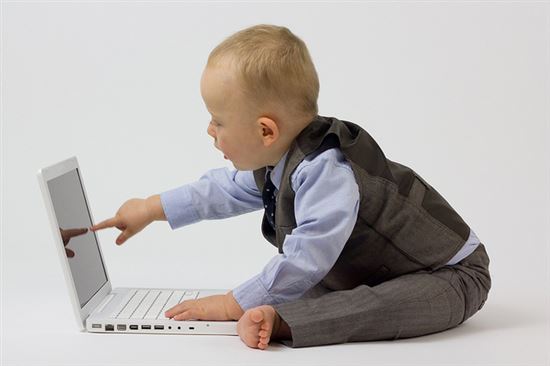 Business Baby Pointing © Paul Inkles (CC BY 2.0) via Flickr
Casually mentioning at a dinner party that you own stock in Apple sounds impressive, doesn't it? However, realize that you'll need to cough up a whole lot of cash to buy just one share of such a popular stock, so you might want to consider investing in a good company that is a little less established and more attainable.
6. YOUR FRIEND'S STARTUP IS FINALLY GOING PUBLIC
If your friend is Mark Zuckerberg, you probably already have millions by now. But if you happen to have another friend with a really solid idea that seems like it could go places, pay attention and follow the process. The more you are exposed to stock talk and news about IPOs (initial public offerings), the smarter you'll be when it's time to lay your money down. Just be careful not to base all your investing on friends. Even Facebook's stock didn't perform as well as predicted when it first went public.
7. GOOD, SOLID INVESTMENTS CAN REALLY PAY OFF
You don't have to be a dedicated day trader to make money in the stock market. Who has time for that? If you study the stocks you want to place your money in and watch their overall growth over a period of time, you're more likely to make a wise decision when purchasing them. Buy low, sell high. And if you're still not feeling confident - or you want to be more conservative - stick to stock index funds to avoid having to pick any one stock.
Related: Beginner's Guide to Investing in Stocks

8. YOU WANT YOUR MONEY TO GROW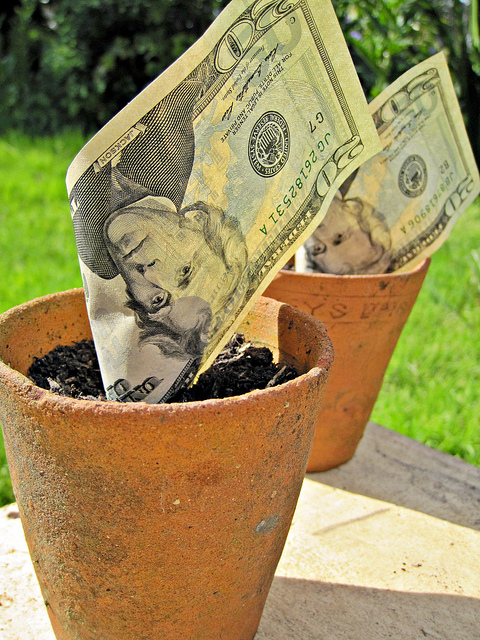 Growing your Investments © Images Money (CC BY 2.0) via Flickr
If it was only as simple as planting your money in a pot and watering it, we'd all be wealthy, right? But since not everyone has a green thumb, we have stocks instead. It's the only real potential these days to see significant growth in your investments.
9. YOUR UNDERWEAR DRAWER IS OVERFLOWING WITH CASH
Your wad of cash that you keep stuffed inside a drawer isn't doing you any good. But if you place some of that cash into stocks, you'll likely wind up with more than crumpled bills.
10. YOU WANT TO IMPRESS YOUR PARENTS
You always hoped you'd make them proud someday. And just think of how proud they will be when you tell them know you've opened an online brokerage account and made some great investments.
11. POTENTIAL TAX SHELTERS WITHOUT BREAKING THE LAW
If you open a stock, bond, or mutual fund IRA, you get tax shelters without breaking the law.
You can open an IRA and write it off on your income tax (with a Traditional IRA), or open a Roth IRA and eventually take the money out tax-free. Yes, you heard that right: tax-free. So, if you invest $5,500 (the current annual limit) in an IRA each year while you're young, you stand to have over a million bucks by the time you hit 65.
12. YOU WANT TO BE ABLE TO SAY, "HEY, MY STOCK WENT UP TODAY!"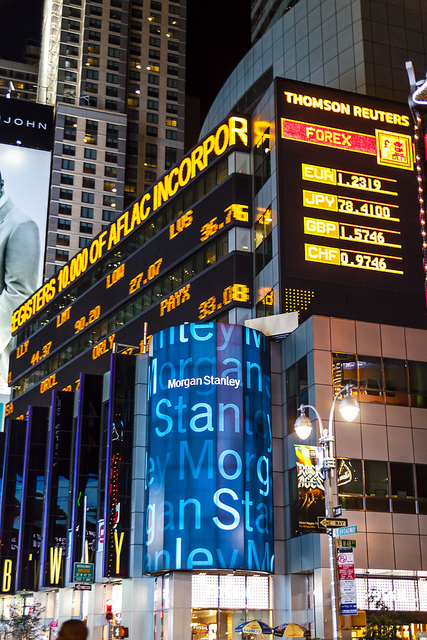 Morgan Stanley ticker, Times Square © huangjiahui (CC BY-SA 2.0) via Flickr
Even if your stock goes down, you'll look cool just knowing the abbreviation on the ticker and saying, "Hey, there's one of my stocks!" But remember, don't sell the stock just because it went down - it's important to remain patient in the market. There will always be highs and lows.
13. YOU SAW THE WOLF OF WALL STREET
The real "Wolf of Wall Street", Jordan Belfort, was extremely smart, but he let his penny stock success go to his head. If you were paying attention between bites of popcorn and Junior Mints, you'd know that these pink sheets (or over-the-counter stocks) are extremely volatile. However, you can make money if you do your research and don't buy a Ferrari and a mansion the second you make a buck.
14. WARREN BUFFET GOT RICH ON THE STOCK MARKET
He wasn't a huge risk taker, but he made wise choices. CNBC offers five investing tips from Mr. Buffett that might eventually allow you, too, a brief stint on Floyd Mayweather's "The Money Team."
15. YOU WORK AT A COMPANY WITHOUT A 401(K) PLAN
You might be getting free snacks and a parking space with your name on it, but nothing beats a matching 401(k) plan. Hopefully this company is paying you well enough for you to invest in your own retirement plan and put your money in some stocks and an IRA.
16. IT'S ALWAYS GOOD TO DIVERSIFY YOUR PORTFOLIO
If you want to sound impressive, there's nothing like being able to state that you have 50% in stocks, 30% in mutual funds, 20% in bonds and 10% in options and futures. It shows you know what you're doing by taking a level-headed approach to your investments by diversifying.
17. IT'S WHAT THOSE TALKING BABY COMMERCIALS WERE ABOUT
If you still think E-Trade is a diaper company, it might be time to get with the program, open an account with a brokerage and start investing for your actual baby's future.
18. YOU KNOW WHO CHARLES SCHWAB IS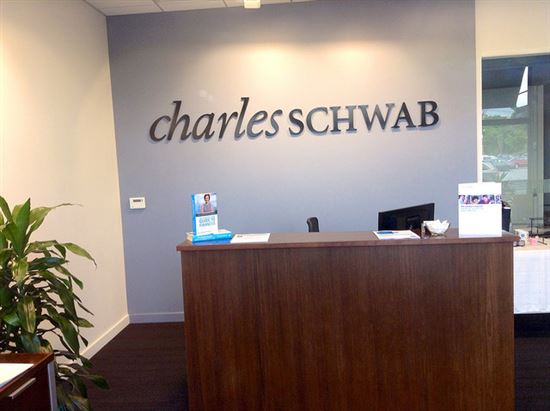 Charles Schwab, Manchester, CT, 7/2014 by Mike Mozart of TheToyChannel and JeepersMedia on YouTube. © Mike Mozart (CC BY 2.0) via Flickr
Smart investors shop around. They don't just go with a brokerage like E-Trade because of one commercial. You should search, shop around, compare, and then make your move. If you can do that with the stocks you invest in as well as the brokerages you choose, you're ahead of the game.
19. YOU WANT TO SAVE FOR RETIREMENT
Crossroads: Retirement or College Fund © Chris Potter (CC BY 2.0) via Flickr
Though it seems like a lifetime away now, retirement will be here before you know it. The earlier you start saving, the more you will have later because of the power of compound interest. You won't be able to save much if you wait until you're 55 to start.
20. You Have Companies You Care About
Investing in companies that matter to you can be a smart way to purchase stocks - as long as those companies have a good track record and a healthy business. Putting all your money into a startup that promises to make flying cars, for example, might not be the wisest investment. Perhaps you're better off sticking to an established business that makes hybrid cars (if that fits into your philosophy.)
21. YOU'RE A SMART RISK-TAKER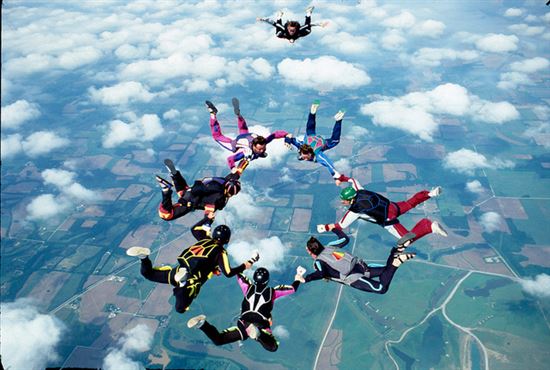 Skydiving_404 © Philip Leara (CC BY 2.0) via Flickr
Many people want to invest in stocks to make a killing. And while this is certainly a possibility, don't put all your eggs in one basket. Make sure you have a diversified portfolio and disposable cash before trying to play the stock market. You could gain big, but you could lose big as well.
22. MAKING EASY MONEY IS FUN
Imagine sitting at home in your underwear and collecting dividend checks just because you invested wisely. Can't picture it? Then you haven't started investing yet.
23. YOU WANT SECURITY FOR YOUR FUTURE
Planning ahead will rarely let you down. Invest wisely, and you can hang out at the senior center with a nice nest egg in your golden years.
Cynthia Cohen is a retail analyst at CreditDonkey, a personal finance comparison and reviews website. Write to Cynthia Cohen at feedback@creditdonkey.com. Follow us on Twitter and Facebook for our latest posts.
Note: This website is made possible through financial relationships with some of the products and services mentioned on this site. We may receive compensation if you shop through links in our content. You do not have to use our links, but you help support CreditDonkey if you do.